These baby walkers are highlights for young explorers on tour and are sure to be THE future sales bringers!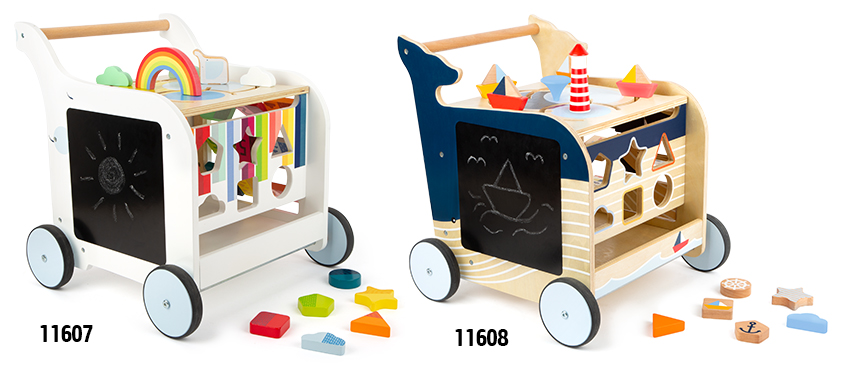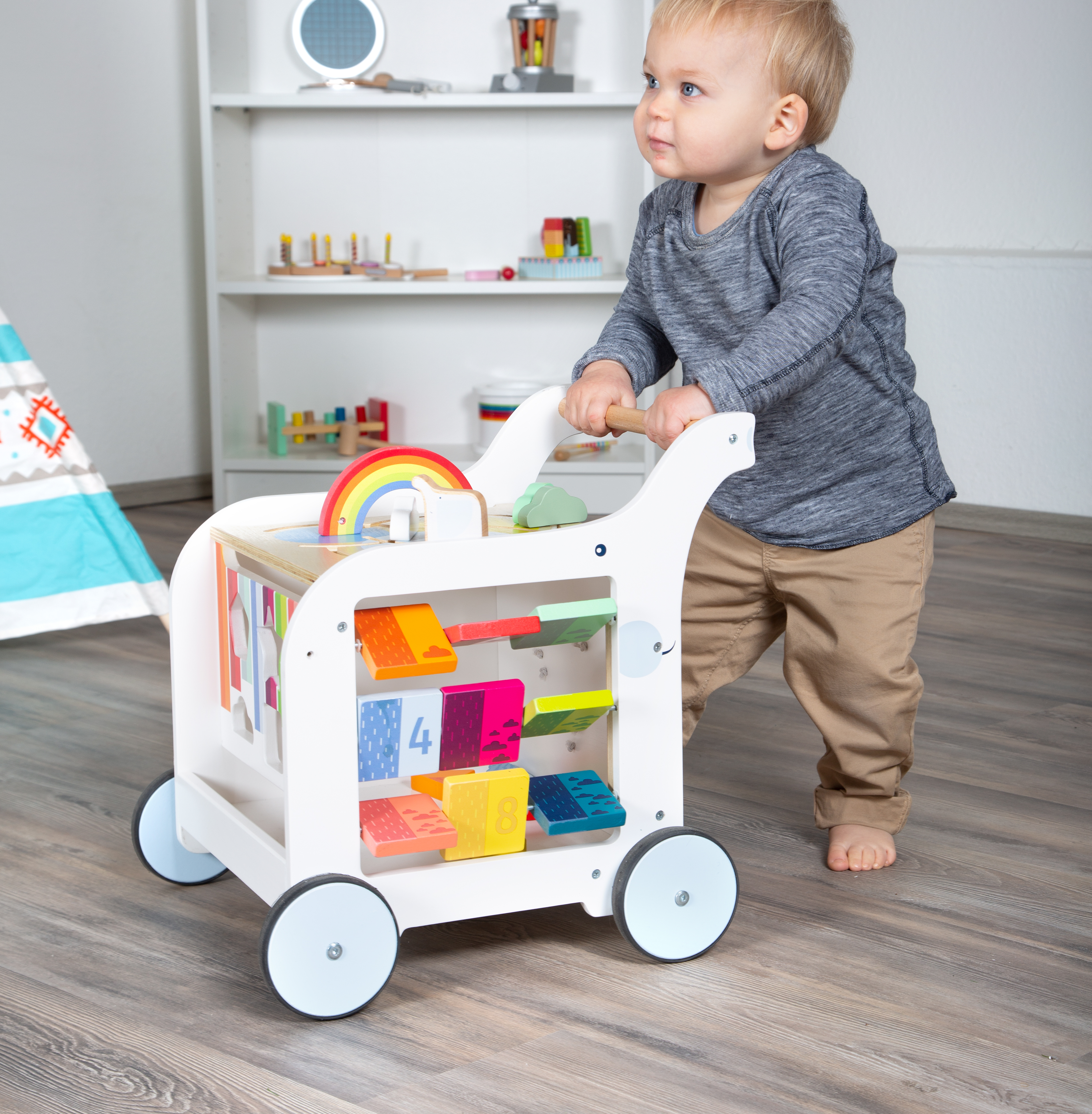 When babies have learned to turn themselves around, to sit, and to crawl, there's nothing more important than discovering the world on their own two feet! Fun with mobility, learning to walk, and developing motor skills: Provide parents the right support with the right products!
Not one, but two new baby walkers will be joining the Legler product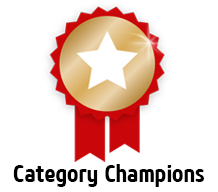 assortment starting 2020! Offer your customers the trendy whale – sustainability and ocean conservation are the talk of the town – and the favourite elephant; these two baby walkers are really something special! These walking assistants offer countless play elements for shape-fitting, pushing, turning over, and drawing on five playable sides with which children can playfully train their gross and fine motor skills. With a minimalist yet child-friendly design with a large amount of visible wood material used and unique illustrations, these baby walkers will impress both kids and adults equally. With these winners, you're sure to get a fresh wind in your baby walker assortment!
The Whale Baby Walker (Product 11608) – An all-rounder in a maritime style (available 2020)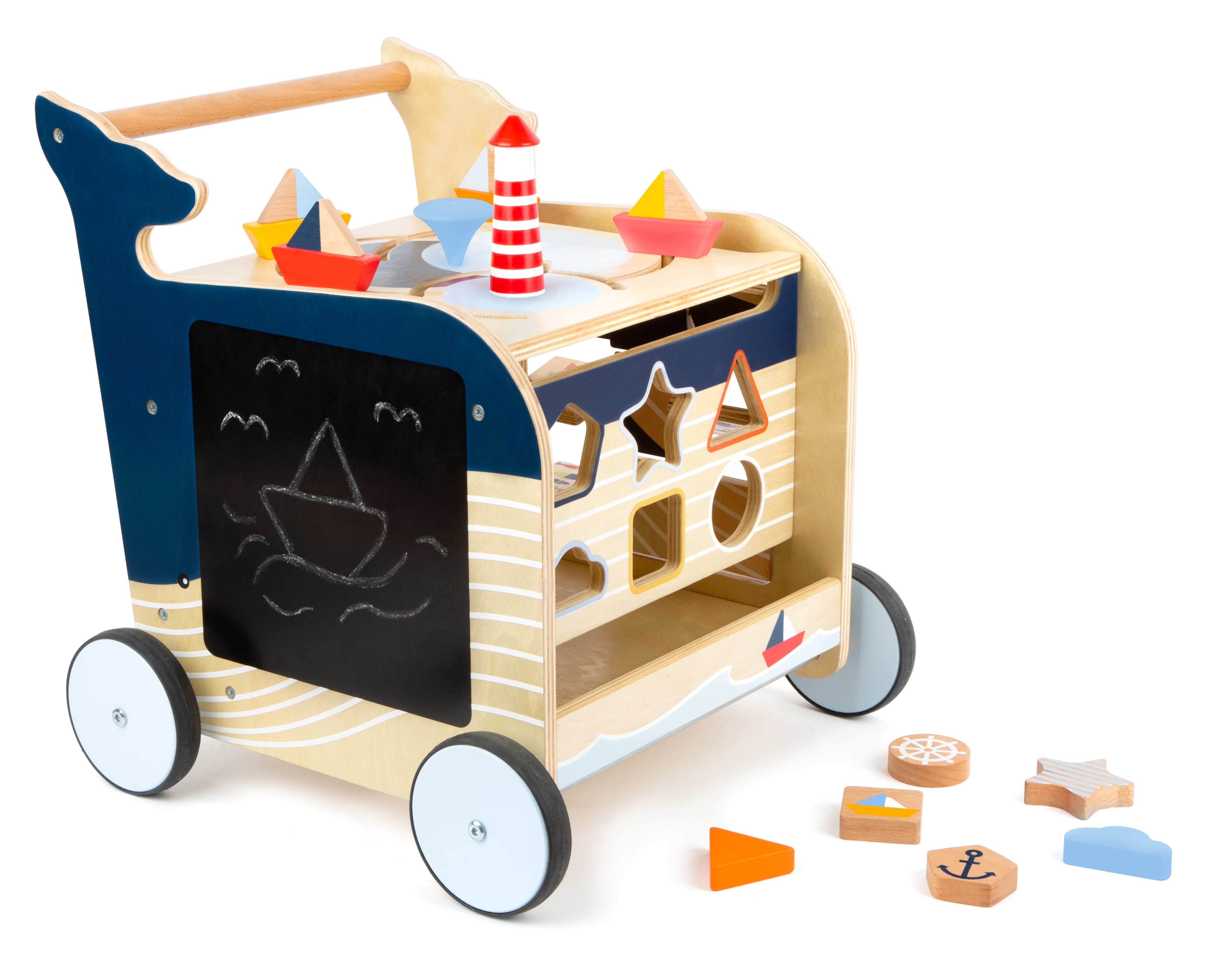 The blue whale is the largest animal in the world, and yet few people have seen it in its natural habitat. The Whale Baby Walker takes children on an exploration through the ocean and introduces them to the sea and its residents.
The sea and the animals that live there are a central design element – the fish help children with their counting, and the compass trains understanding of cardinal directions and the seasons.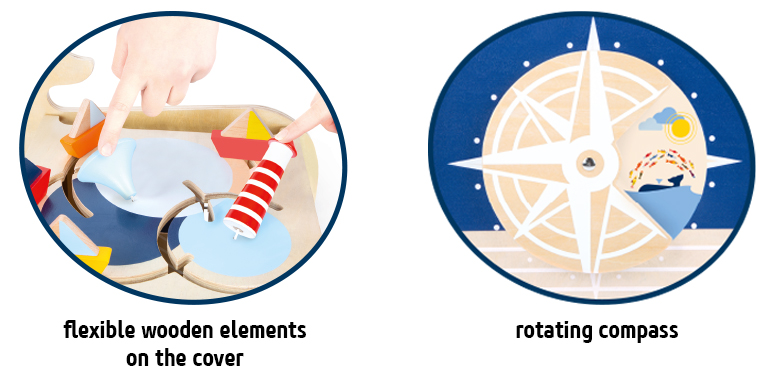 Under the openable lid with pinching protection is plenty of space for shape-fitting elements and all kinds of other toys.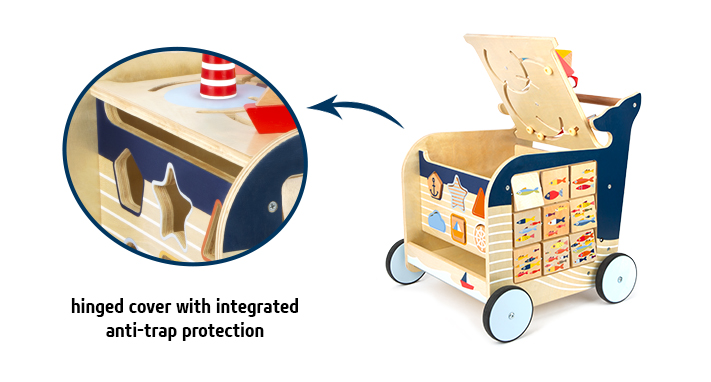 A chalkboard surface animates children to be creative with chalk!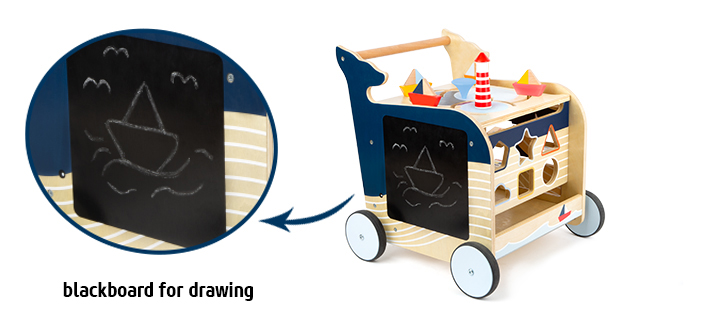 The Elephant Baby Walker (11607) – A gentle giant in rainbow colours (available 2020)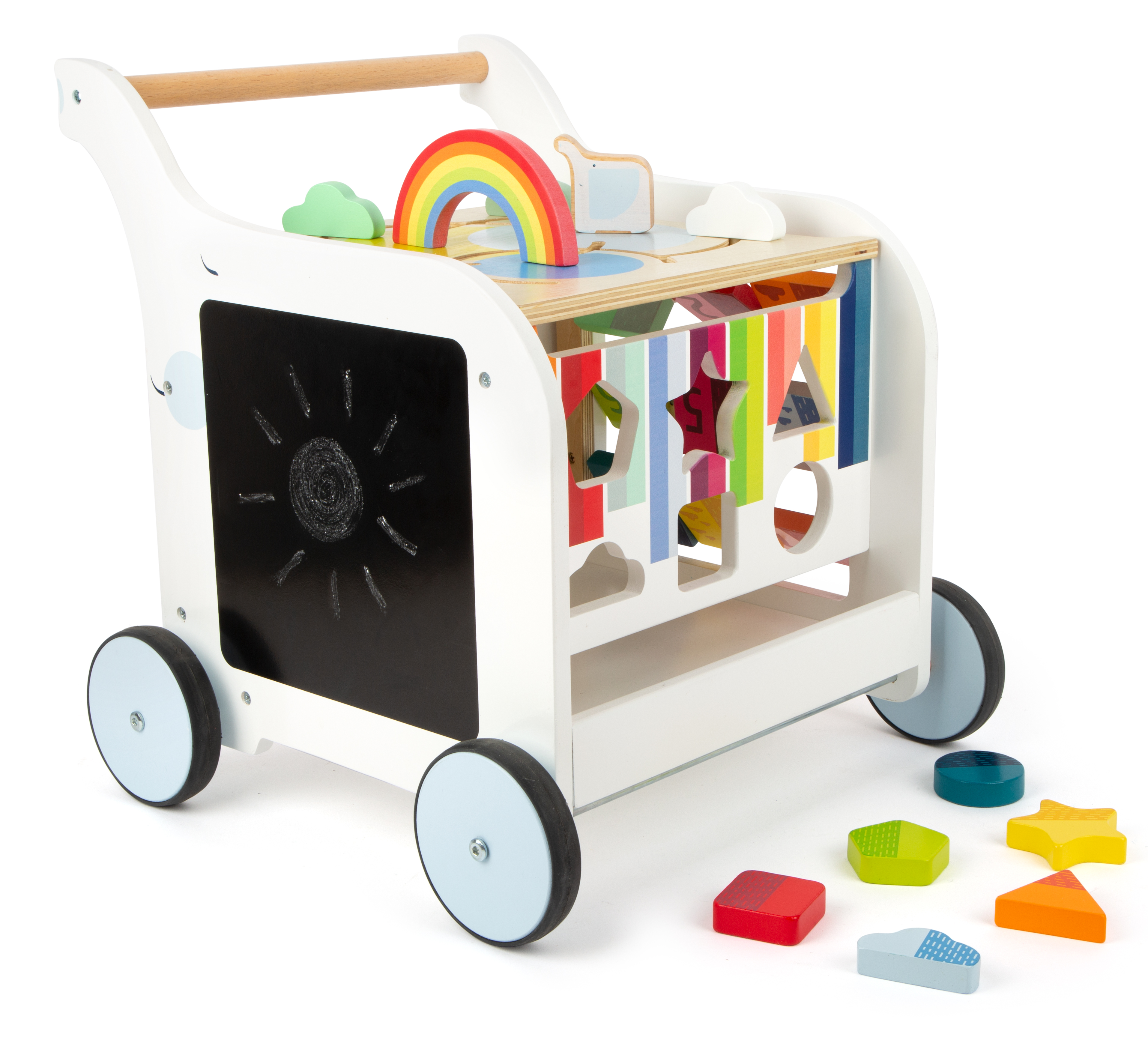 The elephants takes children to a colourful world made of rainbows which excites children's fantasies and creativity. Numbers comprehension will be playfully trained when counting the clouds, and a sophisticated colours game teaches children to recognise and name mixed colours. With its brightly coloured colour design, the naturally finished solid wood elements are more pronounced.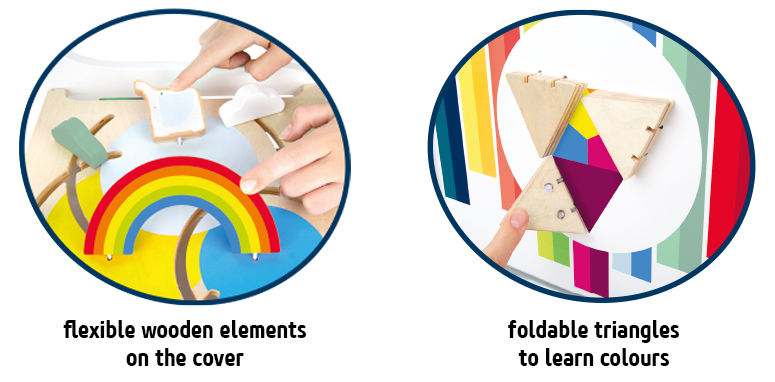 Under the openable lid with pinching protection is plenty of space for shape-fitting elements and all kinds of other toys.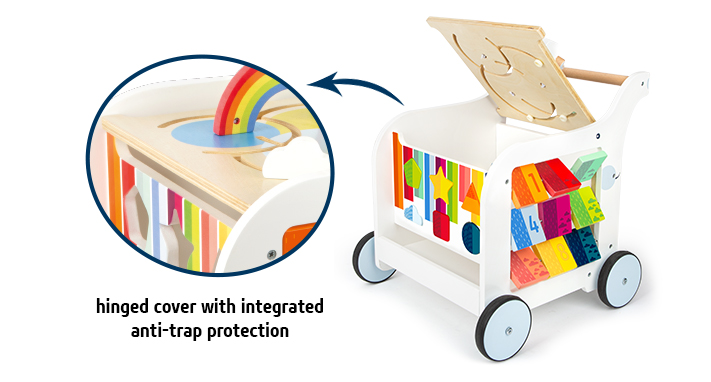 A chalkboard surface animates the young novice walkers to be creative with chalk however their hearts desire!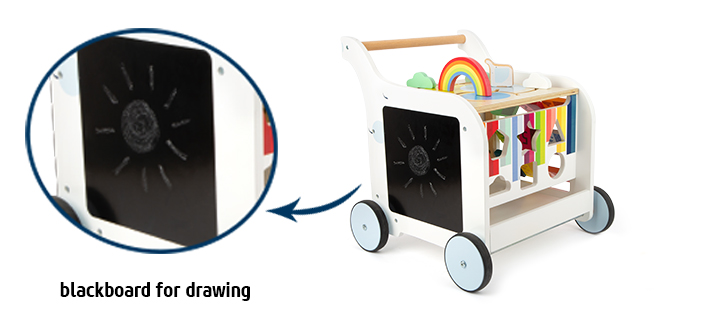 Perfectly equipped – These product highlights are particularly important for parents when choosing a baby walker: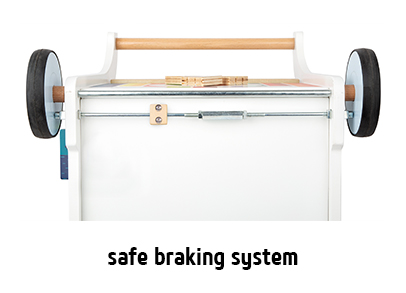 Highest level of safety: Slits on the front side and cover lid prevent fingers from being pinched.
The braking system allows the walker to be pushed over the floor in a controlled manner.
Rubber-finished wheels ensure quiet and safe rolling.
Difficult to top over with a single solid shaft for a sturdy construction.

You won't find baby walkers like this a second time!
Looking for even more baby walkers? Discover a large selection of other baby walkers for your assortment in our "Baby Walkers" category. How about a baby walker from our popular licence Sesame Street or from our new product group "Move it!" or the ToyAward 2019-nominated Lawn Mower Baby Walker?