Order the 2020 ToyAward-nominated Whale Baby Walker and clean the seas!
At the 2020 Spielwarenmesse toy exhibition in Nuremberg, the small foot Whale Baby Walker (11608) impressed the jury and the visitors as a ToyAward nominee. It fulfilled the set criteria of the expert jury comprised of sixteen people including educators, market researchers, industry representatives, and safety experts, and was able to secure a spot among the top three places in the "Baby & Infant" category. The amount of advanced orders which were placed right away demonstrates the enormous sales potential of this TOP seller of its category and already makes it a bestseller, even before its introduction to the market.  And we've got great news for you: our Whale Baby Walker (11608) is now available again for purchase!
Clean oceans = Strong sales argument!
In addition to playing and learning value, environmental protection and sustainability are arguments which are relevant to purchasing decisions for families! As a baby walker made of wood, the Whale scores double points because a portion of the sales go directly as a donation to the NABU project "Oceans Without Plastic" which actively works towards protecting the world's oceans and coasts and thereby contributes significantly to the preservation of the habitats of all sea creatures.  With this, you're investing in our children's future with the purchase of this Baby Walker.  That's a strong sales argument for you as the retailer and a strong purchasing decision aid for your customers!
You won't see this a second time!
With multi-playtime value, a convincing safety concept, and features that impress customers 100%, the Whale has more to offer than just a voyage of discovery through the ocean! This all-rounder offers children a whole selection of playing and learning fun on five playable sides with shape-fitting, sliding, and flipping games and playfully introduces children to the sea and its inhabitants. The rubber-finished wheels, the pinching protection on the lid, the integrated axle, and the braking system offer a plus in safety.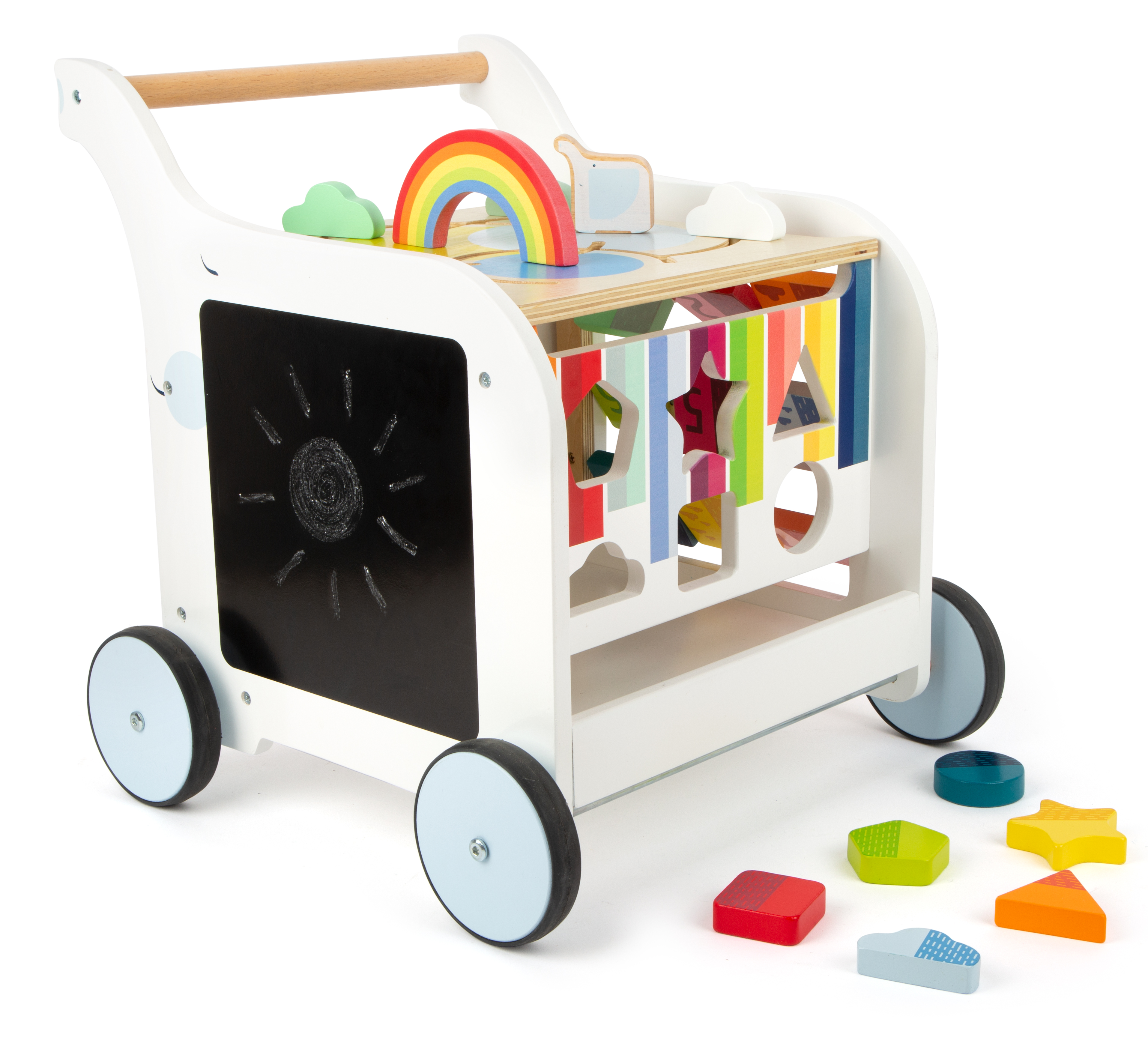 And the Elephant Baby Walker (11607) also makes an impression as a top champion in the fields of material, function, and design! This gentle giant takes children to a colourful world of rainbows, offers them numerous play possibilities for training motor skills, and gives them space to let their creativity and imaginations unfold. It's a practical play companion for novice walkers and a popular customer favourite with its appealing design.