Legler has started the new year in 2018 with a sustainable plus: since 29 November 2017, the company is FSC®-certified.
A constantly growing portion of our extensive product assortment now wears the FSC® seal and thereby stands for particular environmental and social responsibility. The wood materials used in our production come from farmed forests or plantations which are regularly and independently inspected and certified according to the strict international guidelines of the Forest Steward Council (FSC®).
In this way, Legler promotes not only fair cooperation with the environment, but also campaigns for the traditions and human rights that go hand-in-hand with the responsible use of forests. Beyond that, products with the FSC® seal help customers with their purchase decisions, leading to more attention paid to products and therefore more success. Particularly when purchasing emotionally significant consumer goods like high-quality toys, studies have shown that end consumers pay an increasing amount of attention to inspection seals and marks which demonstrate a responsible production process.
Legler has made another important step in the direction of sustainability: important for the company and its customers, but above all: for the security of a world worth living in for future generations.
10884 Cupcakes – 100% FSC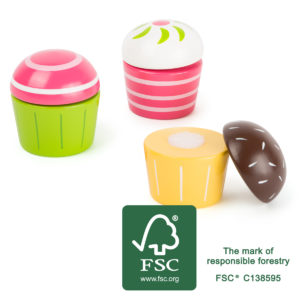 Attention all confectioners! These cupcakes made of solid wood can be combined in many different ways with the included Velcro fasteners.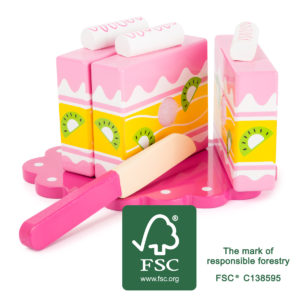 Good enough to eat! A yummy piece of tart goes perfectly with every kid's coffee party. The wooden pink kiwi tart consists of three individual slices connected with Velcro fasteners so that cutting a slice is child's play.

10886 Ice Cream Cone – 100% FSC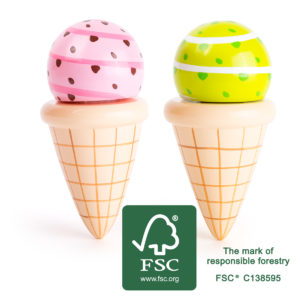 Here, the children can dive into their own play world. The ice cream scoops can be easily removed and reassembled with the Velcro pieces! It's time to visit the ice cream man!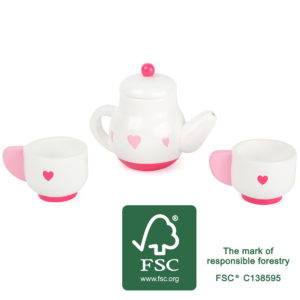 Whether for a coffee party or tea time – this tea set made of lacquered wood is a dream for every doll's mother! The small teapot with the removable lid is decorated with small pink hearts and matches the two included tea cups perfectly.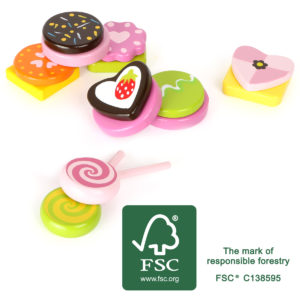 The treats can be rearranged over and over again with the Velcro pieces. This play set is a great addition for the children's play kitchen. Who can resist these pralines? Includes Velcro attachments.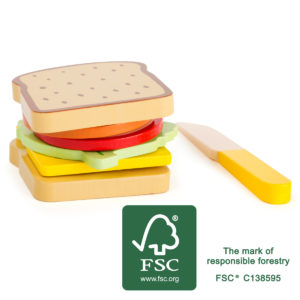 It's about time for a snack! With these wooden accessories, young picnickers can put together a real snack pack. The Velcro fasteners hold the parts together and can be separated with the wooden knife.

10890  Plate and Cutlery Set – 100% FSC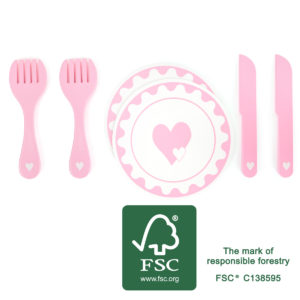 A real Wishing Table! This small wooden plate and the accompanying pink flatware are decorated with little hearts and are a real dream for young girls.

10891 Vegetable Set – 100% FSC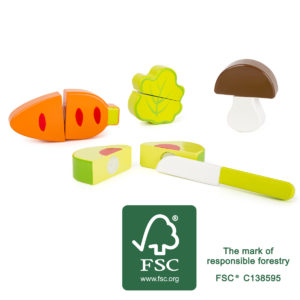 The Velcro attachments can be very easily separated with the included wooden knife and then simply reconnected when needed. A great addition to the children's play kitchen. Includes Velcro attachments.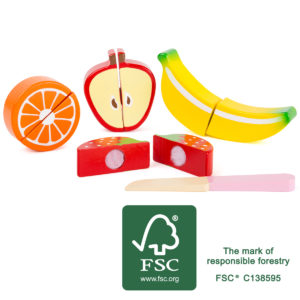 Mmmmm…yummy fruit! This brightly coloured wooden potpourri can be easily separated with the included wooden knife. The robust wooden pieces are held together with Velcro fasteners.

10893 Airport with Accessories – 100% FSC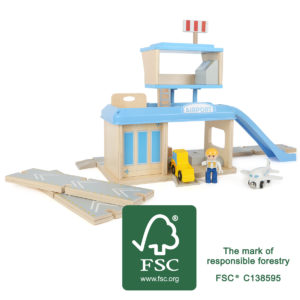 The well-marked runway can be individually expanded. The luggage vehicle brings all suitcases and bags promptly to the airplane. And then flight 108 is ready to board – tell the tower to authorize start-up!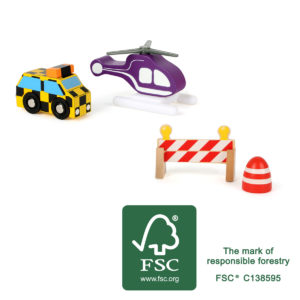 Follow me! The little black and yellow vehicle is ready to guide the airplane to its final parking position. But watch out! A part of the airfield is blocked off: the helicopter is landing and bringing some VIP guests. Who is going to disembark? This 4-piece set with a large percentage of wood material is an ideal addition to product number 10893 (Airport) with accessories, and will make the airport even more exciting.