The trade fair season is approaching! We have a wide range of new products to show you and look forward to welcoming you to our exhibition stand.
Visit us at:
Birmingham, Spring Fair 

Hall 5, stand 5K07    
Exeter, Giving & Living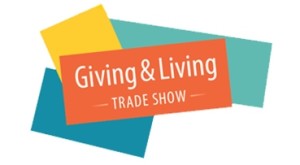 Hall A, stand 554 
Spielwarenmesse Nuremberg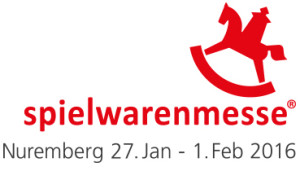 Hall 3, stand A 36. 
Make an appointment with your Legler adviser today and receive a free entrance ticket from us:

What can you expect?
Look forward to our impressive range of 400 new products. These range from classic wooden toys, innovative Wendy houses made of environmentally friendly cardboard, high-quality puppets for the puppet theatre in the playroom to spring decoration articles for the garden  as well as cute children's birthday party decorations – we have a great variety of products to get 2016 off to a great start! Not forgetting our new extended range of high-turnover licensed products such as Peanuts and Shaun the Sheep.
 All new products are marked with our New button and easy to locate!

Our new product range: small foot Baby – Lotta is moving in!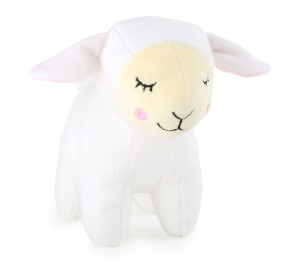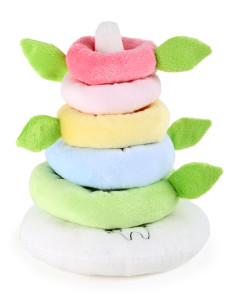 You will love our new small foot baby product range with its outstanding quality and trendy design.  As the 14 wooden baby articles are so popular with consumers, our toy designer Catharina did not waste any time and has now created "Lotta" as an extension to the range: Lotta is a sweet textile lamb – from January will be an optimum supplement to the small foot Baby range of classic wooden toys, for example as a cuddly toy, a comfort blanket or a funny rattle. You can meet Lotta in Nuremberg!
By the way..  All small foot Baby products have a cute packaging and can also be ordered together with a free of charge rotating sales display which is made of wood.

Successful together – support for your sales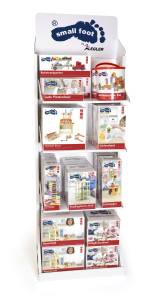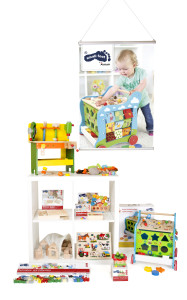 You have your own shop and would like more support in selling small foot toys? We can make this wish come true in 2016!
From now on the choice is yours:
Free small foot by Leger toy shelf incl. basic range*
Free small foot by Leger toy shelf incl. supplementary range*
Free small foot Baby wooden display including small foot Baby full range*
Free small foot shop window decoration including decoration material
Cute small foot give-away pack
Customer catalogues with more than 3000 products for browsing
Surprise: A logo, panelling for your own Tegometall shelf or customised solutions – at Nuremberg at the Spielwarenmesse you will have a wider range of POS support equipment than ever before!
* the respective shelf or display is free of charge at a purchase of a predefined assortment (value of goods between 203,88 €/£142,53 and 392,55 €/£274,70).
Talk to us – we would be pleased to advise you and provide the necessary support.  You will profit at the POS almost without any additional costs and considerably boost your toy turnover.

New colourful small foot packaging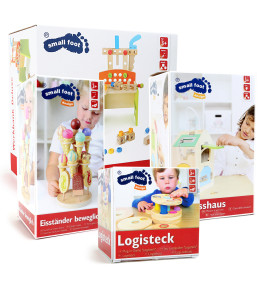 Thank you for your very positive feedback on our new small foot colourful packaging! Production is running at full speed and new products are arriving daily in colourful small foot packaging.  In Nuremberg at the Spielwarenmesse you can take a look at the new design yourself and can view all products together in their new packaging. We would be pleased to advise you about a possible shelf range with the products in colourful packaging.
The advantages of the colourful packaging:
Emotional child image
Several detailed article images
High-quality packaging cardboard
Comprehensive article text
Appealing design

Save up to € 50/£ 45 with you fair voucher if you order at our stand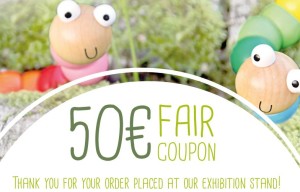 Only for you and exclusively at our stand – if you place an order directly at our stand we will give you a € 25/£ 20 voucher – irrespective of the order value!
If you place an order of at least € 500/£ 450, we will even give you a € 50/£ 45 voucher!
The voucher can be redeemed from 16 February 2016 for subsequent orders. 

The freight charges have reduced! 


Each parcel now at the cost of € 11,90.
Exceptions: Different costs will be incurred for bulky and piece goods.  Please contact our customer service. When ordering pay attention to these icons:
We look forward to welcoming you to our trade fair stand!
Best regards
Your Legler team