2-in-1: The multifunctional toy vacuum will boost your turnover!
Household toys are some of the most popular toys in the role-playing category and real sales-bringers. Come discover the new favourite in the nursery – the small foot Wooden Vacuum which is a real hit as a push-along toy!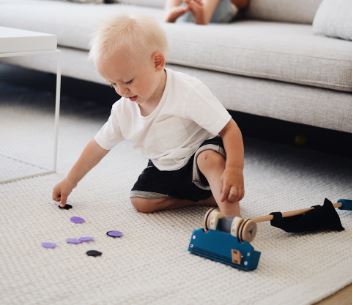 A vacuum for the smallest kids! What usually is a boring everyday task for adults is an exciting challenge for children! They think it's neat when Mum and Dad go and get household appliances to finish up all the chores. The big, loud vacuum that makes dust and crumbs disappear like magic makes an especially strong impression on children. With the new small foot Push-Along Vacuum, children can now imitate their parents and vacuum just like the grown-ups. This multifunctional cleaning equipment toy offers young housewives and househusbands everything they would know from real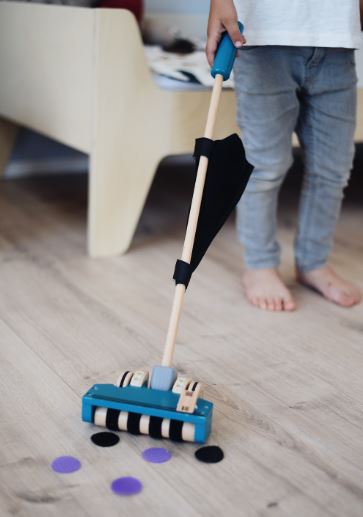 vacuums: a vacuum bag that can be removed and emptied, a floor brush with a step lever, and rubber-finished castors which are suitable for all kinds of floor surfaces. The hook-and-loop pieces that can be "sucked up" just like real dirt with the strips of fleece on the brush roller adds playtime value. With this, this toy appliance doesn't just have role-playing character, but is also a real hit with "real" function-related play possibilities. And here's the best thing: after playtime is over, this toy appliance can be stored upright – right next to Mum & Dad's real vacuum! The vacuum-typical design strengthens the realistic playtime experience and makes this toy vacuum a modern hit in your role-playing assortment.
Product features that impress parents 100%:
Can be stored to safe space when standing upright
Vacuum pole is removable thanks to the threads
| | |
| --- | --- |
| "Dirt" in the form of Velcro pieces and nozzle with fleece stripes for a realistic playtime experience | Rubber-finished castors for quiet, safe pushing without slipping |
| | |
| --- | --- |
| The vacuum bag with zipper is also usable as a storage bag | The coloured hook-and-loop pieces are especially visible on various floor surfaces |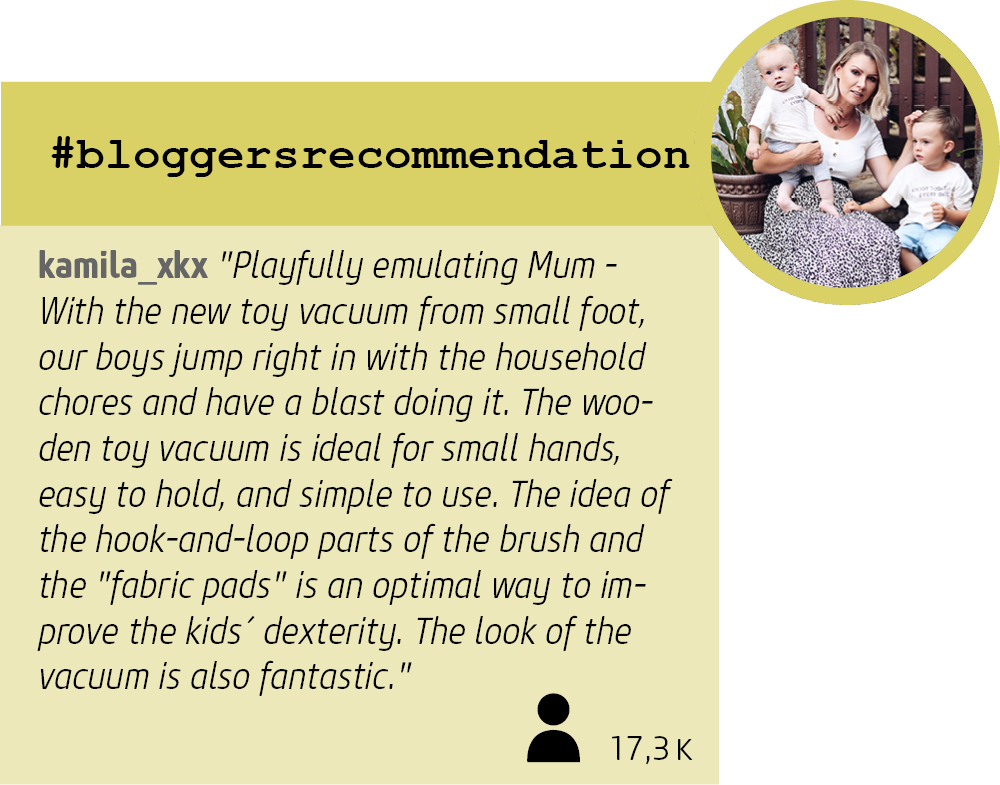 2-in-1: Toys that are multifunctional and appropriate for multiple age groups are in demand now more than ever! Toys which bring joy to children over a longer period of time are particularly popular from the view of environmental sustainability: against overconsumption and for play that's good for multiple age groups with doubled learning effect! This is what makes the small foot vacuum so popular – it's a push-along toy which accompanies younger children on their first steps as a baby walker, while older children can learn social skills during role-play and playfully slipping into the adults' everyday roles.
The "Champion" of the household toys category!
The small foot Push-Along Vacuum is part of our new Category Champions at Legler! All of the relevant market demands, wishes, and needs of children and parents were the focus during the development process of this new product. The result is a wooden toy vacuum that's also a push-along toy that you won't find a second time on the market. Come learn more about the "Category Champion" term and which small foot brand products are a part of it!
Good to know!

Even more arguments for the sales consultation:
A push-along toy and a role-playing toy in one
Multifunctional walking aid for baby's first steps
Flexibly usable by multiple age groups for extra-long playtime fun
Role-playing toys are perfectly suited for children aged 3 years and up
A toy vacuum contributes to the development of a sense of order.
When pushing it around, children automatically train their sense of balance and motor skills.
Push-along toys encourage children to walk and give them a strong sense of independence.
Push-along toys that make movements and noises or which have an additional role-play function when they're pushed around offer twofold appeal for young explorers and even more encouragement for them to walk.
Push-along toys inspire imagination – but only once the child's imagination brings it to life.
Children learn their first cause-and-effect relationships with push-along toys.

Looking for even more highlights for your role-play segment? You'll find the vacuum as well as other household toys in our Online Shop under the "Role-Playing Toys" category. With the small foot toys for "Home and Garden", both young and grown-up customers will absolutely get their money's worth while your sales shelves will be swept clean – guaranteed!