Our recipe for success for the summer with kids at home! Come discover the right boredom-fighting products for your assortment!
Off on holiday, perfectly equipped! For families that are now spending the summer at home, it's time to keep kids busy! That's why now is the time to stock up with new play ideas and exercise games for the outdoors!
Fresh power for your outdoor assortment!
"Active" is the name of our popular outdoor product series, and it's also what these products are about: play, fun, sport and action! "Active" brings together classic games in XXL formats as well as brand-new exercise games with modern designs and trendy colours!
And the best part? All ACTIVE wooden toys are FSC-certified for particularly sustainable playtime fun with a very clear conscience!
Newsletter subscribers can get a 5€ instant discount on orders placed between 05.08. and 12.08.2020! You'll find your personal 5€ voucher in our current newsletter!
This just landed in our score zone: The "Active" Bag Throwing Game is new in our assortment! With this throwing game made of FSC® 100%-certified wood, players must score points by throwing the cloth bags through the coloured targets. The different colours represent different numbers of points. The target modules can be positioned wherever you want in order to change up the game and the difficulty. It´s the perfect garden game for both young and old, which can be played in two game modes!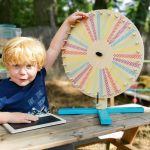 Our new Fortune Wheel "Active" (Prod. Nr. 11371) is sure to bring all kinds of excitement because:
A winner with each spin! This fortune Wheel made of FSC® 100%-certified wood is comprised of a disc that spins and which can be easily modified. There are 30 colour fields on one side, and there is chalkboard paint on the other side. With this, you can make your own classifications over and over again. The teams and names can be written down on the smaller separate chalkboard, and at the end, the winner can be chosen! This fortune Wheel is ideal for funny rounds of play in the children´s room, contests in the kindergarten or at a children´s birthday!