To a roll of drums, we proudly present… Legler's new exhibition stand!
Legler's first exhibition stand – small yet perfectly adequate – has now been turned into a bigger, more original hands-on stand. Legler's exhibition team have been working hard and have turned our exhibition stand into a wonderful visitor experience! Why not enjoy Legler's new, enchanting experience as you take a trip through our product range? You will never have seen so many new products in our range!
What is in store for you?
Place an order on our stand and you will be rewarded with a € 25/£ 20 voucher to be used on your next order, valid from 15/2/14. Find out what's new in 2014 and make sure you secure your stocks at the Toy Fair.
Vote for your favourites and let us know which other types of product you would like to see us stock. Your opinion counts on the Legler stand! Every visitor can have their say as to what toys we should be buying more of!
Pijou, the mascot, will accompany you on your journey through our exhibition stand. Pijou the pirate and his friend, Maurice, will take you on a guided tour of the exhibition stand at 11am and 3pm on Sunday 2nd February 2014, revealing small foot designs, new products and the different Legler product categories.
Learn all about our own brand, small foot design, and get your hands on some cute balloons to give away to customer or decorate your shop.
Make yourself at home in the Legler lounge with a game and a glass of water. And the Energy Bar is not just about recharging your batteries – there's room for your smartphone, too. You'll soon be fully powered up again and ready to go!
But that's not all….  Come and see what else there is for yourself!
We look forward to seeing you there!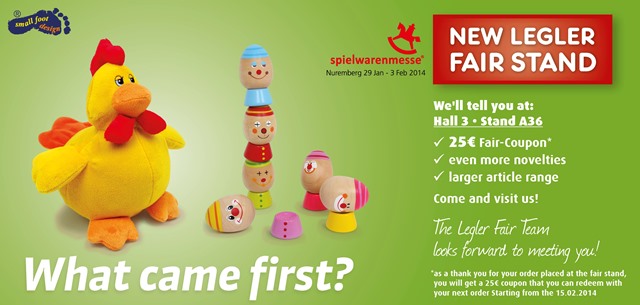 For our UK customers: £ 20
Do you have an idea?
Perhaps we can find a solution together? Don't delay – make an appointment for a one-to-one meeting with your Legler representative. Just give us a call on +49 (0)4221-97302 69
Important information to reach the fair and to find your way around can be found on the Nuremberg Toy Fair website: http://www.spielwarenmesse.de/.