The Legler mascot Pijou reported in an interview about his impressions and highlights of the stand!
Legler Trader's Journal: Hi Pijou, you have witnessed the new fair appearance of Legler very closely. It was the first time for you being there. Please be so kind and tell us what was new.
Pijou:  The whole stand was new. Even more products and novelties could be found and me, Pijou, was there for the first time. Also many surprises could be found, e.g. the oversized Stack-Egg or the Legler lounge.  When walking along the stand together with you I had a lot to tell to each visitor of our stand!
LTJ: That sounds exciting. Would you be so kind and show us round the stand as well?
Pijou: Yes, of course. Going back to the 248 m² stand of Legler: I welcomed visitors friendly and invited them to walk through the stand with me. Of course nobody could resist my charm!  Also the "small foot design" footprints showed the way.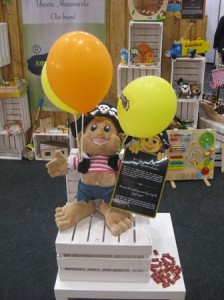 Here we go: A fancy wooden wall with wooden boxes showed our self designed products of the brand "small foot design" and the new licence articles of Disney and co.
Then we went directly to my personal favourite place – the Legler lounge. Here we could relax together, drink a glass of water, eat some chocolate and mobile phones could be recharged. We had a lot of fun playing football, Ludo or some other board games. I was responsible for amusing the visitors.
This time our catalogues were available for free in 12 different languages and the visitors were happy to take them along from the different catalogue places.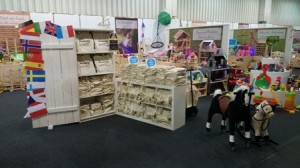 Then we went through our different product categories which are also used in our catalogue. Many more products could be seen compared to previous years.
This time the novelties have been presented on huge tortes – naturally no real tortes!
Finally in a quiet and view protected corner with tables and chairs – the councelling corner – I was able to have personal councelling conversations.
LTJ: Wow, that sounds completely new and different to the previous stand. What was the most impressive on the new Legler stand?
Pijou: I can't believe it myself – but the stand was completely self-designed, arranged and assembled. Do it yourself of the superlatives! You can watch a video and get an idea how the stand has been assembled: http://bit.ly/Messeaufbau. The achievement of my Legler colleagues was really impressive.
LTJ: For me it is the same and the video is really worth seeing! What was your personal highlight on the stand?
Pijou:  I would say that the highlight for me was the conduction of survey of the visitors regarding the different sorts of our product range. On a blackboard the visitors have voted which category they are wishing more products of and all individual product suggestions have been collected in a special box.  I was deeply impressed by the creative ideas of the visitors and I put a coloured paper into the box as well. By the way: 23 visitors who came to our stand are wishing more products of the category "handycraft work" in the range of Legler!  Besides "Stool in Wooden Optics", "Stand for the Learning Bikes" or "Rucksacks for School" you made many more individual proposals which we will consider with higher priority in the future. More ideas can still be sent to my e-mail address marketing@legler-online.com .
The oversized Stack-egg just crossed my mind spontaneously. This encouraged the visitors and me to play along. I almost stacked it together. It was great fun.
I know I should have mentioned only one highlight but we have not noted the balloons yet. We gave away our "small foot design" balloons to each interested person! These balloons in yellow and orange with the logo are real eye-catchers!
LTJ: That all sounds as we have missed something! And how did you like Nuremberg?
Pijou: Nuremberg is a nice and historic town which I like very much. We all stayed in a youth hostel, a sensational caste in the middle of the city centre. I had a splendid view out of my tower room and the position of the youth hostel was perfect. In the meantime I felt more as a prince than a pirate. I would recommend this youth hostel to every visitor of the fair.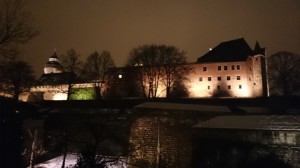 LTJ: A historic castle? That is something really special! How did you like the toy fair 2014 all in all? It was the first time you took part…
Pijou: I was completely overwhelmed by the huge halls and so many stands. For me as a small pirate everything appears much bigger. I heard about the exhibitors of 2.748 companies from 61 different countries. Yes, I was on the biggest toy fair ever and next year I will be back again!
LTJ: And we are looking forward to meeting you! What would you advise to all those people who had not the possibility to take part? How could you feel a bit closer to the stand?
Pijou: I would look at the video, order some balloons for free (item numer 9557) and I would try to visit next time.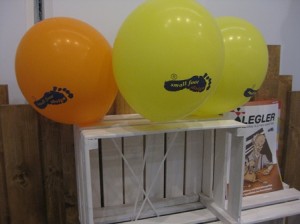 LTJ: This is a to-do list that makes sense! Many thanks to you Pijou for your time and your revealing information. Furthermore we want to say thank you to all the visitors who came to our stand!