Movere means: set it in motion! And that's exactly what this product line with its nine toys embodies. They attract buyers and sellers alike with the use of lots of wood, naturalness and a high level of playtime value. The products, which are meant to go together, train the motor skills of children in their early stages of development and learning.
Every individual toy is a joy for all the senses with its wooden surfaces, the uniform color schemes, and the multifarious designs with familiar animal images. Children will playfully discover their fantasy-filled, colorful worlds over and over again with this product line!
Movere at a glance:
10450 Movere Bead Rollercoaster
Supports children's motor skills development – Squirrel, Hedgehog & Co. are on the move.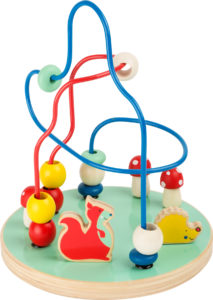 Height: approx. 24 cm, Ø ca. 18 cm

10451 Movere Motor Skills Triangle
Different materials invite children to discovery and simultaneously train their motor skills.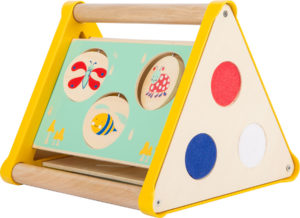 Height: approx. 26 cm, Ø ca. 24 cm

10452 Movere Shape Fitting Cube
Colors and shapes will be playfully learned with this wooden shape fitting cube.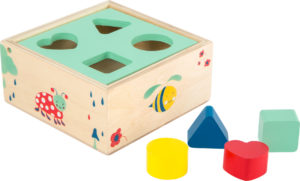 approx. 13 x 13 x 6,5 cm, Height of fitting pieces: approx. 3 cm, Ø approx. 3,5 cm

Who can hammer all the cylinders through the workbench? There's really something underway in the children's room!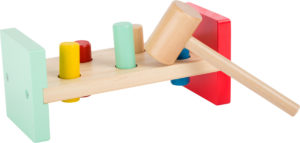 approx. 24 x 9 x 9 cm, Height of wooden cylinders: approx. 5,5 cm, Ø ca. 2 cm

Who can build the highest tower? It's quite a challenge, since all the stacking pieces must be stacked on the wobbly seesaw.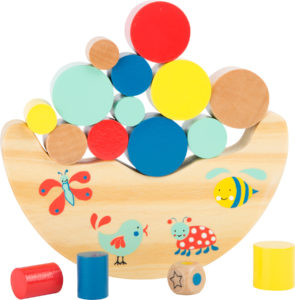 Balace Seesaw: approx. 14 x 2 x 8,5 cm, Height of balance pieces: approx. 3cm, Ø ca. 2 cm

This walker is really multitalented and impresses people with its functionally simple design.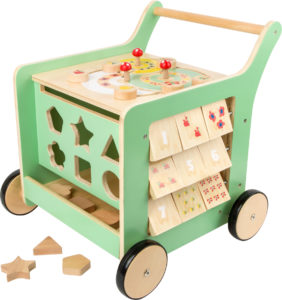 approx. 39 x 40 x 42 cm

A wobbly activity in which all the wooden pieces must be stacked in the correct places.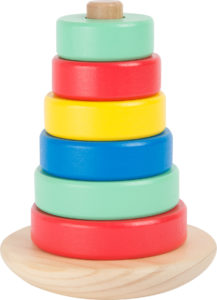 Height of Stacking Tower: approx. 12 cm, Ø approx. 8,5 cm

10458 Movere Bead Rollercoaster Display
Set of 6. A real eyecatcher in the cash register area with three different colorful bead rollercoasters!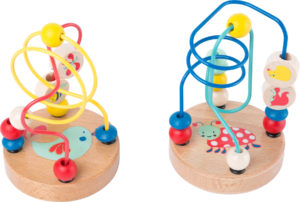 Height: approx. 13 cm, Ø ca. 9 cm

10459 Movere Motor Skills Cube
Different playing areas offer diverse playtime experiences and train both fine and general motor skills.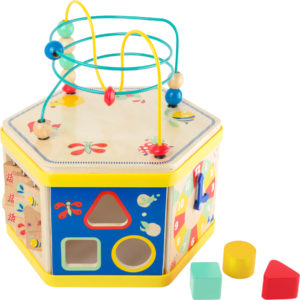 approx. 29 x 29 x 31 cm