New – Unique – Category Champions! The Mud Kitchen, Riding Horse, and their pals are the new bestsellers!
When the temperatures outside start to climb in the spring, both kids and grown-ups head outside in the fresh air! Finally, children can really let off steam and enjoy the lovely weather again. Whether that's while role-playing in a Mud Kitchen, taking a wild ride on a Wooden Horse, or planting early bloomers and digging in Mum's flowerbed.
Four new outdoor products are now enriching the Legler product assortment because they're the promising new "Category Champions" which optimally unite the wishes and requirements of parents and children alike.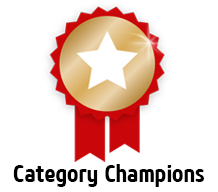 Introductory Bonus: Place an order for 1x Mud Kitchen, Wooden Horse, and Garden Trolley and receive the top-selling (1x) Lawn Mower Baby Walker with a value of 69.99€ RRP for free! Code: FREE11292. We'll reward smaller orders with a 5€ instant discount! You can find the code for it in our newsletter for the offer. Valid from 30.06 until 28.07.2020. Only redeemable one time per customer number.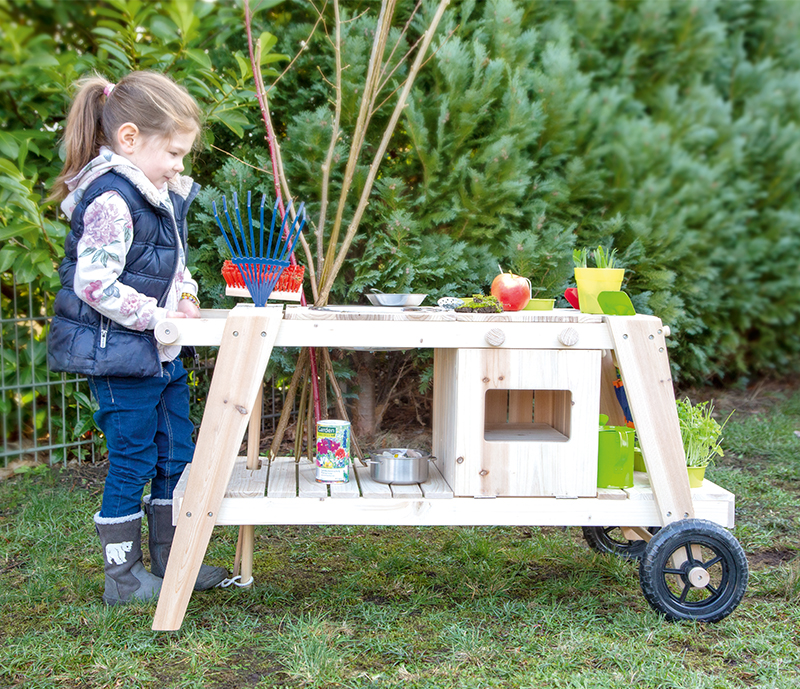 The Mud Kitchen (11665) – The new star of the yard or balcony!
Sand + Water = Mud & Fun! This modernly designed mud kitchen made of weather-resistant solid wood is the new star of the yard and on the balcony! Playable from all four sides, it offers space for multiple children for creative playtime as an outdoor kitchen. And this is unique: Thanks to the indestructible wheels, it can be pushed around as much as the children want! An oven with two knobs that make clicking sounds, a large mud bowl, two small mud pots and two flower pots made of metal as well as recesses, hooks, and a storage surface for organising gardening tools, cooking equipment and mud utensils make this extraordinary "summer kitchen" complete! It encourages kids to really muck around!
The benefits at a glance:
– Playable from multiple sides
– Unbreakable wheels for simple moving of the kitchen
– With turnable knobs that make clicking noises
– With an oven and a comprehensive set of accessories
– With notches for gardening tools
– Magnetic door catcher on the oven door
– The untreated wood can be individually decorated by customers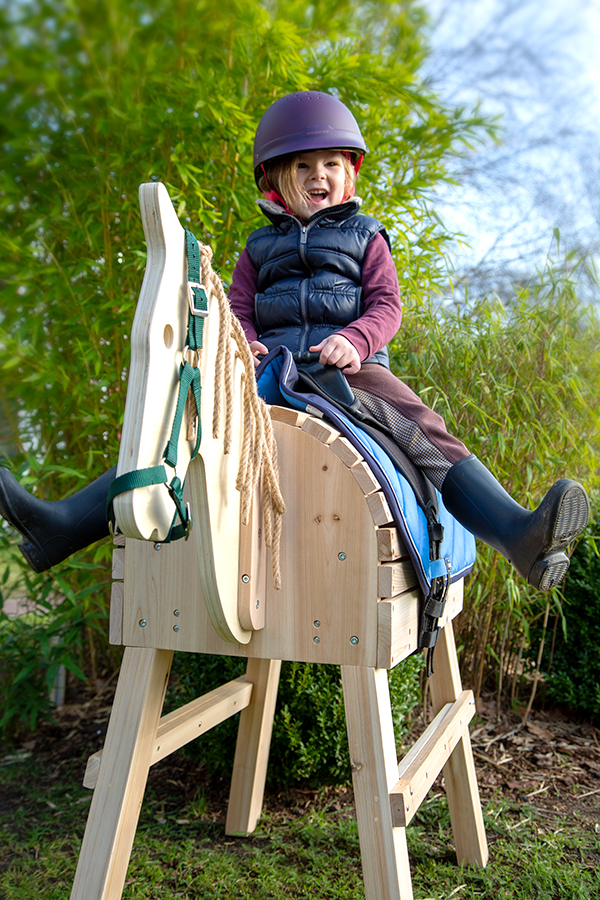 The Wooden Horse (11664) – A favourite with unique features for horse fans!
A wooden horse is the greatest gift for all horse fans! Both small and bigger horseback riders can playfully learn about the basics of horses, ponies, and riding with this large playing, riding and vaulting horse made of untreated, weather-resistant wood. The mane and the tail made of sisal invite children to style them and braid them, and a step allows young children to easily mount the horse. The flared legs give it a stable, safe stand. And here's something unique: behind the flap door on the rear end, there's a large storage area in the horse's tummy where the holster, cleaning tools and accessories can be stored. Comes with a saddle!

The benefits at a glance:
– Easy to mount thanks to the step
– Stands firm thanks to the splayed legs
– Stylable mane and tail made of sisal
– Internal storage space
– incl. head collar
– The untreated wood can be individually decorated by customers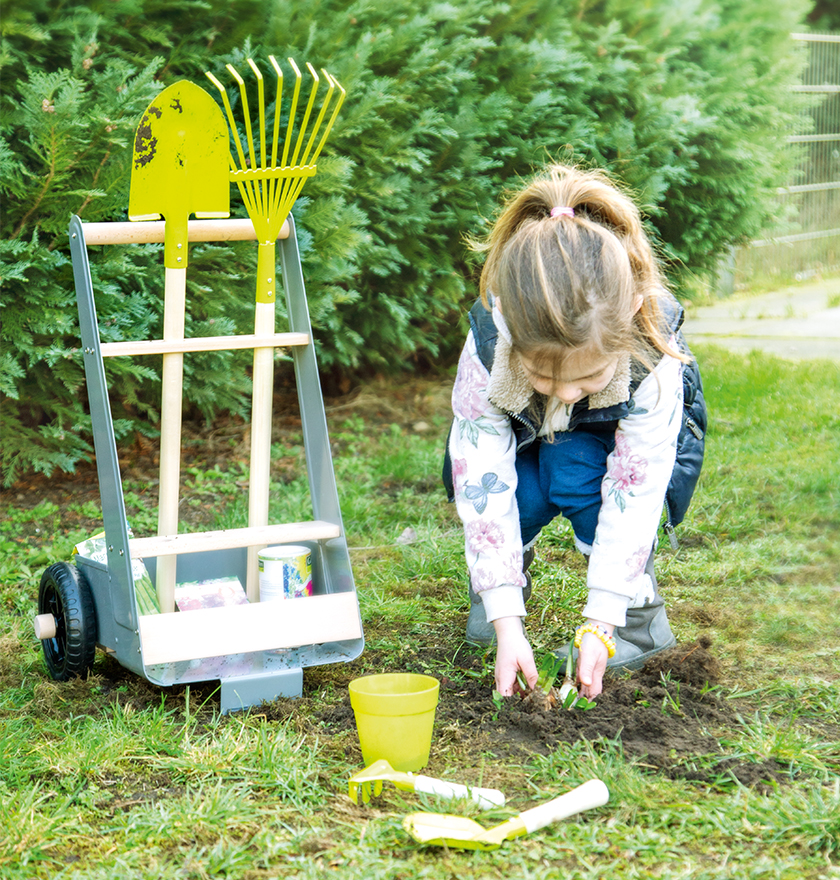 The Garden Trolley (11663) – So up-and-coming little gardeners can really shine!
Now the young, aspiring gardeners will really come into their own! With this garden trolley set comprised of a trolley, a spade, a rake, a plastic flower pot and small gardening aids like a dustpan and a smaller rake, the young gardeners will have everything they need, right at hand. The stable trolley made of beech wood and metal can be pushed and pulled with ease across the ground thanks to the indestructible wheels and offers 4 set places for large and small gardening tools. The kids' own gardening and digging equipment will also have enough space to be stored. The open floor of the trolley makes cleaning easy. Comes with a rubber-finished metal foot for stability! It's an absolute must-have for your role-playing and outdoors assortment that you won't find a second time on the market in this style.
The benefits at a glance:
– Made of stable beechwood and metal
– Easy pushing and pulling thanks to the indestructible wheels
– Plenty of space for additional gardening tools
– The positioning of the gardening tools prevents injuries
– Open bottom makes cleaning easier
– Stands firm with rubber-finished metal feet
Hand Cart with Gardening Tools (11627) – This belongs in every garden shed!
Perfectly equipped for gardening! With this garden tool set consisting of a wheelbarrow with approx. 10 litres storage capacity, garden gloves made of 100% cotton, spades and rakes, little and young gardeners can actively help their parents in the garden. The solid rubber tyre provides extra long lasting fun!