The autumn exhibition is right around the corner! And this year we also have lots of new things for you in our bags and we're looking forward to your visit to our Legler exhibition stand.
Visit us here:
Autumn Fair, Birmingham
Hall 5, Stand 5C46

Book an appointment with your Legler consultant (free entry ticket!):

New catalogue with 400 new products
Prepare to be surprised by our nearly 400 new items! From classic wooden toys to small foot design innovations, from musical instruments in the "Noisemaker" line to the high-quality toy train accessories and Christmas decorations, we've brought a broad selection of products for the 2016 Christmas business season. Don't forget: The Very Hungry Caterpillar is back in our product line with cute new additions!
All new additions are marked with buttons and can be quickly found in the catalogue.

New product lines: TRAINible – toy train accessories from small foot!
Better prices than all the competition, compatible with all other wooden toy train products, endlessly expandable and with attractive sales solutions for the POS – that's TRAINible from Legler!
The new uniformly-designed product line with 18 products will be delivered to all initial customers who order the recommended selection with an optional revolving wooden sales display or small foot shelf made of stable cardboard included free of charge.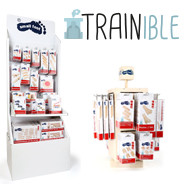 New product line: "Noisemaker" musical instruments from small foot design!
Six new musical instruments from our new product line "Noisemaker" will excite all little musicians. The sought-after musical toys shine with a new design and a huge selection – from flutes to our music table. The concept of the new product line originated here in Delmenhorst with our in-house product designer and wears the brand "small foot design" with pride!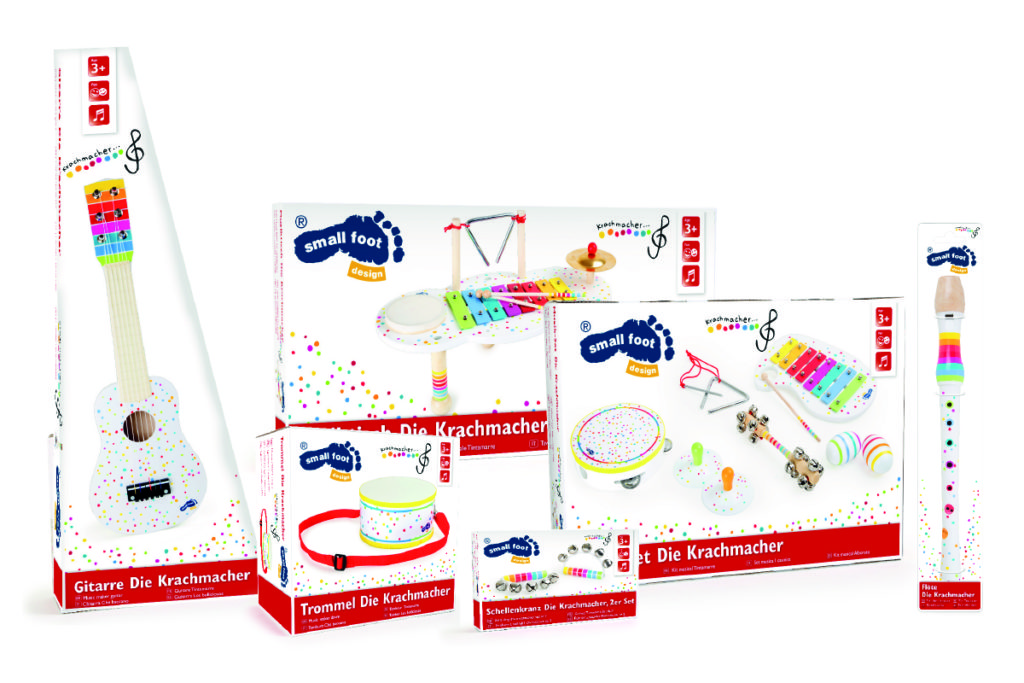 We support your sales – more solutions for the POS!
So many new things for retail sales! Experience the new sales solutions at our exhibition stand!
small foot toy shelf with classic wooden toys*
small foot toy shelf with motor skills toys*
small foot toy shelf with toy train accessories "TRAINible"*
Revolving wooden displays with toy train accessories or small foot baby products*
small foot premium wooden shelf with motor skills toys* or individual assortment
Price rails for your store shelves
Logo plaques for your store
All shelves and displays are now also available without preselected items
*   the respective shelves and/or displays are free of charge with the purchase of a predefined assortment.
Come talk to us – we're happy to advise you and equip you with the necessary support. With that, you'll now be able to satisfy your customers and greatly increase your toy sales profits at the POS with almost no additional cost.

Many new small foot colored packaging assortments – experience it live at the exhibition!
Starting in September 2016, we will have almost 450 small foot colored packaging assortments in stock – and we're always adding more! This is how the small foot colored packaging attracts the customer:
pictures of happy, excited children
modern and friendly design
extensive end consumer texts and product details
high-quality product boxes
multiple pictures of product details
securely and solidly packaged
suitable for gift wrapping/gift boxes
See the strengths of our colored packaging (especially together with our sales displays) for yourself at the autumn exhibition!

Exhibition voucher up to 50 Euros / £ 45 in value with direct orders – only at the exhibitions
Exclusively for you as an exhibition visitor at our stand: place a direct order with us at the exhibition, and get a 25-Euro /  £ 20 voucher applied to your next order* as a gift from us!
Those who order more than 500 Euros / £ 450  get a 50-Euro / £ 45 voucher*!
* redeemable with your next order, which must first be placed starting two weeks after the order placed at the exhibition. Offer ends on December 31st 2016.
We're looking forward to your visit at our exhibition stand!
With Kind Regards,
Your Legler Team