The working committee spiel gut e.V. has distinguished four more small foot products from the brand small foot with the spiel gut seal.
With this, these products stand for lots of playtime fun at the highest pedagogical level! They were able to fulfill all the evaluation criteria and passed comprehensive field tests!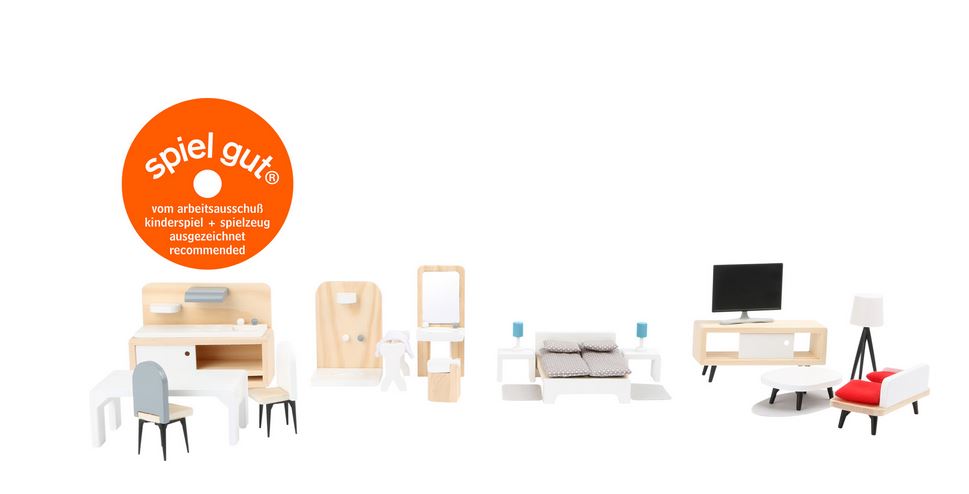 Art. 11414 Doll´s House Furniture Set Complete
Doll's house furniture in Scandinavian design. This comprehensive wooden doll's furniture set comprised of a living room, a kitchen, a bedroom and a bathroom fulfils all wishes. Details such as a toilet with a working lid, carpeted floors and felt pillows, enchanting bed linens and a functional mirror are just as good at promoting role-playing as the sliding cabinet doors on the TV table and on the kitchen cabinets.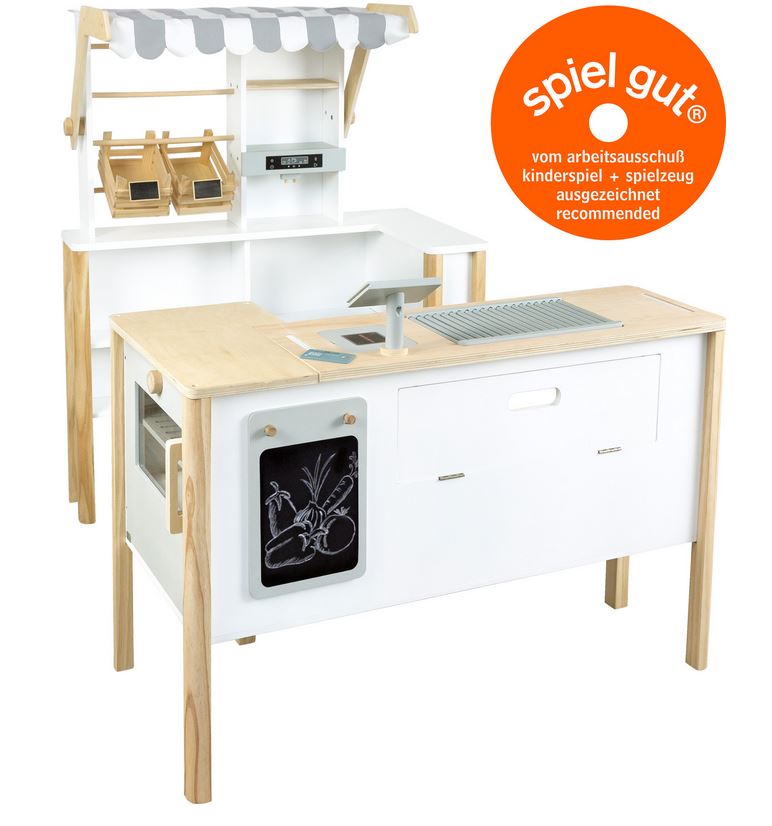 Art. 11436 Multifunctional Play Store "fresh"
A play store, a kiosk and snack stand, a market stand, a kitchen or a cafe? This large modern market stall with removable cover is a real multitalent that can change its function in an instant. The flexible modules open countless playtime possibilities and can be positioned anywhere to fit any space and play idea. The included accessories and scanning area including a display and a checkout counter belt, two sales baskets with price signs, a special offers chalkboard, a tap, a coffee machine, a sink/cash, a grilling area/hot plate/checkout counter belt and an oven/fridge will fulfil all wishes! Awning cover may vary.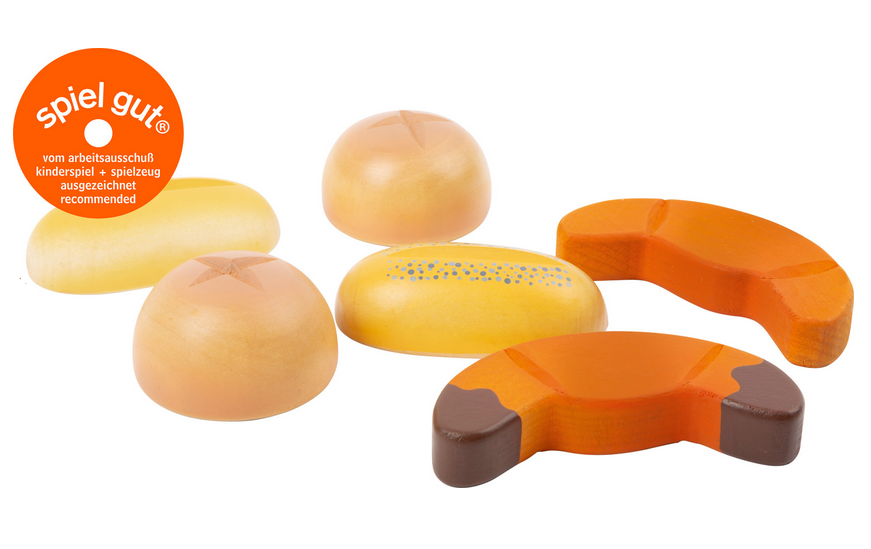 Art. 11437 Set of Baked Goods "fresh"
Breakfast is ready! This set of baked goods made of solid wood is an open invitation to Sunday breakfast. The 6-piece play set includes four different kinds of rolls, a croissant and a chocolate croissant in appetising colours. As an ideal addition to play stores and play kitchens, this baked goods set promotes active role-playing and inspires creativity. The natural and realistic optic of these toy baked goods allows for particularly authentic playtime sessions. Who's going to set the table for breakfast?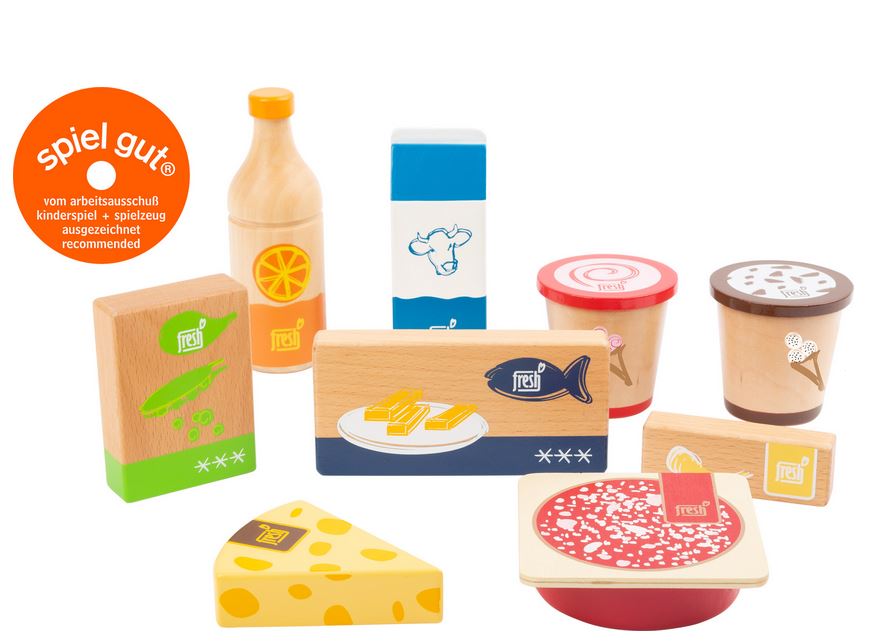 Art. 11441 Cold and Frozen Products Set "fresh"
The weekly grocery shopping goes by quickly with this play set! Comprised of a bottle of orange juice, two packages of ice cream, a package of peas, fish sticks, butter, cheese, sliced salami and a large container of milk, this 9-piece set fulfils all wishes. In an active role-play, children can first shop for the products in their play store and then put them into the refrigerator in their play kitchen. The material made of robust solid wood guarantees long-lasting playtime fun and has a high-quality appearance thanks to a highly visible proportion of wood material and its natural design. With the understandable illustrations on the toys' packaging, text is not required, which makes it possible for even the youngest children to play, too.

The experts from diverse fields of business focus not only on high playtime value, continuous play possibilities, and promotion of creative development, but also on safety, environmental friendliness, durability, and promotion of children's development. These and other criteria make small foot products that are distinguished with the "spiel gut" seal true highlights in the toy industry.
Tested, inspected, awarded: It's especially important to parents that they can find suitable toys for their children! That can sometimes be difficult when it comes to choosing from a variety of different toys being offered by different retailers. With the "spiel gut" certificate, you're giving your customers an optimal decision aid that's really convincing.