Legler – producer of wooden TÜV-certified baby toys
With the release of the new 2017/2018 Legler catalog, two of our cuddly sheep's friends have enriched our "Lotta, Lex, and Ludwig" product group.

The cute wooden baby toys in this product group are ideal first toys for children. From grip toys and grip rings to rattles, the selection of Lotta, Lex, and Ludwig toys is attention-grabbing. All products have a saliva-proof coating and are naturally colorfast.
We're TÜV-certified – Inspected and Passed!
Product safety is the paramount factor when it comes to the selection of the right toy for a child. As the only wooden baby toys on the German market, the Lotta, Lex, and Ludwig products carry the renowned TÜV Rhineland emblem. This is an important factor that helps orient parents when searching for a product.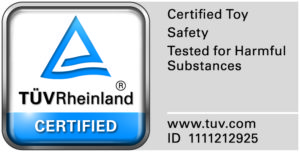 Environmentally conscious and sustainable – Because nature is close to our hearts
Did you know that a rubber tree that has been used in the production of rubber is usually simply burned thereafter? In order to prevent this, we recycle the used wood of rubber trees to manufacture the baby toys in the Lotta, Lex, and Ludwig line. This allows the production of a product that's not only sustainable, but also low-maintenance and easy to clean. When it comes to nature, we operate with a clear conscience!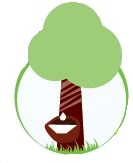 A very special trio!
Each of the diverse characters tells their personal story that emotionally moves the baby as "user". The three friends' individual character traits always keep customers coming back for more!
Lotta the daydreaming sheep comes in natural, calming colors and loves to cuddle. With simple sapes and soft colors, she helps the baby absorb life and learning.
Lex the jolly fox is a strikingly colorful globetrotter who loves adventure and is always in motion!
And last but not least, there's Ludwig, the level-headed and humorous billy goat who prefers to concentrate on the true things in life. Before important decisions, he thinks carefully and never makes rash decisions.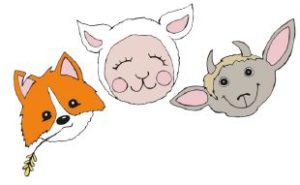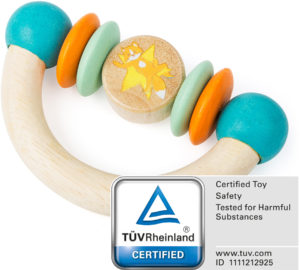 This cute grip toy is a great first toy! Curious babies can easily grip this half-circle made of sanded, smoothed wood, and they can experience the moving beads with all senses. This grip toy naturally comes with a saliva-proof coating and can be easily cleaned with a wet towel. The cute motifs of the three friends, Lotta, Lex, and Ludwig, complete this baby toy perfectly.

10519 Lotta the Little Sheep Grip Toy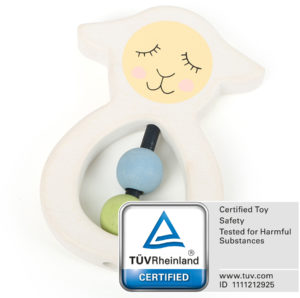 Your new best friend! Lotta the little sheep, Ludwig the billy goat, and Lex the little fox are here on this cute grip toy. The three friends with beads in their tummies make exciting noises when they're shaken. Carefully manufactured from wood, these grip toys also impress with their colour-fastness. This is how babies can explore this toy to their heart's content and put it in their mouths without concern. A great toy for practicing motor skills – with cuteness factor!

10654 Ludwig Grip Toy on Rollers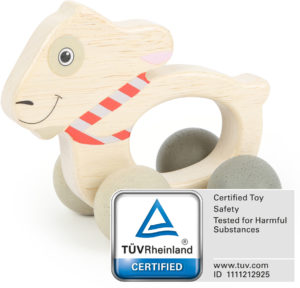 Lotta, Lex, and Ludwig are now mobile! These cute grip toys made of expertly manufactured wood can not only be wonderfully gripped, but can also be rolled around on their stable wheels. There's lots of diverse fun to be had that will also train motor skills and guarantees lots of action on the play mat! The grip toys are lacquered with saliva-proof paints and can be put explored with the mouth without concern. A great baby toy for young explorers!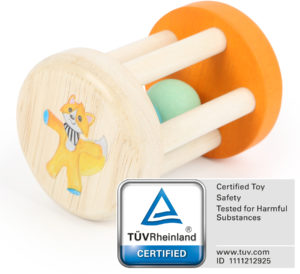 Rattling enchantment! Small hands can grip this baby rattle particularly well. When shaken, babies hear and see the wooden beads clacking all along the poles inside. With beautiful colours and the cute motifs of the friends, Lotta, Lex, and Ludwig, young children can extensively discover the worlds of sounds, colours, and shapes while training their motor skills. Thanks to the saliva-proof paints, this wooden baby toy can be used without concern. A great learning toy for all the senses!

10650 Ludwig Grip Ring with Beads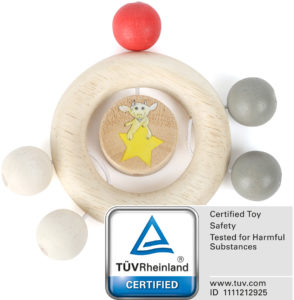 What fun! This cute grip ring with beads fits well in children´s hands and quickly attracts the attention of babies with its colourful, securely attached beads that make exciting sounds when shaken. The lovable friends Lotta, Lex, and Ludwig train motor skills and won´t be put down anytime soon. The grip right is made of high-quality wood and is painted with saliva-proof lacquer.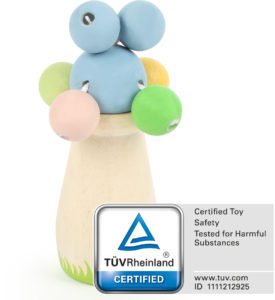 What fun! With this Fun Beads Rattle, babies will surely get their money's worth when they start to explore the things around them. The rattle, made of finely manufactured wood, fits great in the hand and is the ideal size for small babies' hands. And the colourful wooden beads inside make such wonderful clattering sounds! Exploring the rattle with one's mouth can also be done without worry due to the toy's saliva-proof paints.

You'll find many more Lotta, Lex, and Ludwig products in the corresponding theme world: