The small foot Recommended Age Guide has valuable tips and recommendations for your sales consultations.
The selection of wooden toys is massive – but what is important to consider when it comes to purchasing toys? The age and developmental phase of the child is one deciding factor. Children's development of motor skills, cognitive skills, and even social skills with the right toys. To that end, it's important to take the child's age and skills into consideration in order to avoid overwhelming or underwhelming them.
The Recommended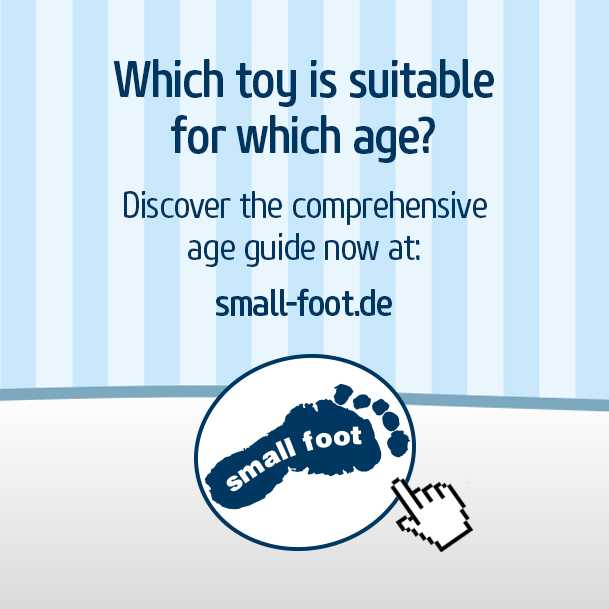 Age Guide at small foot: expert knowledge for your sales consultations!
As a company that's been manufacturing wooden toys for many years, we want to make our expertise available to you in our Recommended Age Guide. With it, you will learn which toys are recommended for childre between the ages of 0 and 4 years. In addition, we'll give you advice on which toys are suited for training motor skills, cognitive skills, and even social skills in our Skills Guide. Getting curious? Make good use of our 30+ years of experience and win over your customers during the sales consultation with expertise that's guaranteed to impress!
But that's not nearly enough: Tips & tricks for parents in our small foot blog!
Families are spending more time with their children, especially in these times of the coronavirus, and now is a better time than ever for good tips and advice. You can learn about how children can playfully develop good hand hygiene routines or receive tips on how you can master your time with your children despite working from home and homeschooling!
To the Tips & Tricks for Parents from small foot
Crafting and game instructions for your customers! Crafting and family games are popular pastimes for families. As a retailer, you can use our game and crafting templates for your business and offer your customers the added value they're looking for!