Our new small foot world experience world is finally here!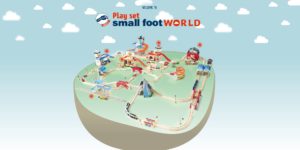 Here we offer you the entire overview of our wonderful small foot world products. In our experience world, you'll find everything you need to know about small foot world: videos, additional information, photos and much more!
In our colorful experience world, you've got access to all the products which can be combined with our play worlds.
A huge amount of fun while browsing and discovering the products is provided for both you and your customers via attractive colors and playful designs. Just dive right in and let yourself be surprised!
Browsing pays!
The new experience world of our small foot world is hiding a surprise for you!
In the small foot world experience world, we've hidden a promotional code with which you can secure a free gift up until January 30.