The new workshop toys from small foot – fully equipped with attractive accessories and the best sales argument
The Miniwob product group makes a great impression with realistic-looking toy workbenches and child-friendly tools in small foot's own in-house designs: environmentally sustainable and long-lasting playtime fun for creative girls and boys aged 3 years and up!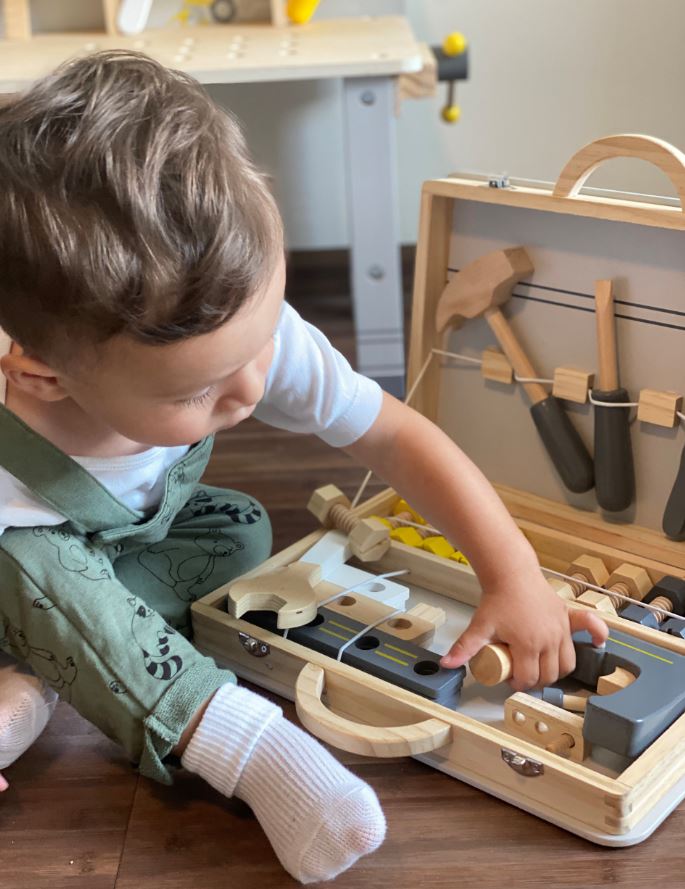 Hammering, sawing, screwing – Just like the grown-ups!
Do-it-yourself is totally trendy at the moment! Hardware stores have been making profits this year despite the circumstances. Lots of people have switched to short-time work and are staying at home for holidays – and that means they're finding time for home improvement projects that they had otherwise put off for later. The new small foot Miniwob product group is seizing this trend and has its figurative finger on the pulse of the times with true-to-the-original workshop toys: role-playing toys with which children can imitate what their parents are doing are currently very popular. The Miniwob series make a great impression with an attractive mix of products and a fantastic price-performance ratio. Workbenches, tool boxes, tool belts, and others are perfectly complementary to each other and provide long-lasting, environmentally friendly playtime
fun for both girls and boys thanks to the high proportion of wood material. As Category Champions, the Miniwob products bring a whole collection of product highlights and USPs. For example, children can also take part in the assembly of the workbench which offers space for their first fantasy-filled sketches. The tool belt can be easily adjusted to the child's individual figure and is perfectly equipped for all projects with its adjustable pipe wrench and wooden spanner wrench. In the tool box are tools such as a carpenter's square with a spirit level and a handy toy electric screwdriver which has bits that can be swapped out via magnets. The construction set provides the children's workshop with the perfect creative toys for young, aspiring mechanics: with this wooden construction set, young tinkerers can let off steam creatively and create their own unique constructions.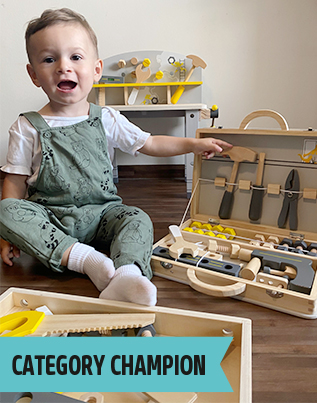 Wood – More than just a construction material
The robust, natural material wood promises to bring long-lasting playtime fun and often accompanies children over many years; beloved wooden toys are often passed down from generation to generation. This warm, pleasant raw material speaks to all the senses and fits timelessly into the interior design of any nursery with its calm, workshop-typical designs.Simply the best for young, aspiring craftsmen!
The workshop toys from the Miniwob product group are part of the new Category Champions from Legler! All of the market-relevant end customer requirements, wishes, and needs (which means that of children and parents) are the focus of the development process of these new small foot product innovations. Learn more about the term "Category Champion" and which small foot brand products are a part of them here.
Good to know!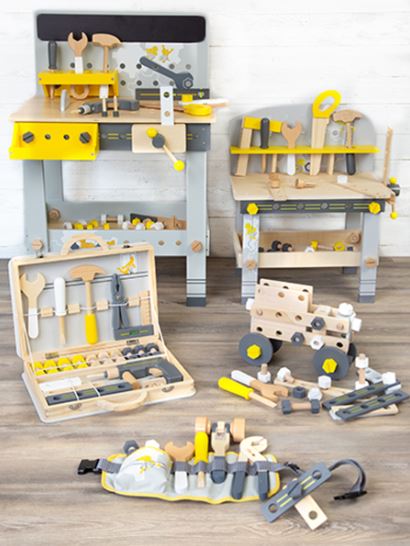 Even more arguments for the sales consultation:

Now more important than ever: wood transmits fewer germs than plastic
Workshop toys playfully promote the development of both fine and gross motor skills.
Tinkering on one's own ideas decisively contributes to the development of children's power of imagination
Workshop-typical colour scheme that doesn't overwhelm children when they're playing
Diverse accessories with all products
¡Pague por dos artículos, consiga tres! Si pide el

maletín de herramientas

Art. 11808 y el

banco de trabajo compacto

Art. 11805, recibirá el juego de martillos de construcción Art. 11573 gratis! Código: FREE11573. No tiene que hacer nada más que poner los artículos: banco de trabajo compacto y el maletín de herramientas en su carrito de compras e introducir el código. Recibirá el artículo gratuito con su pedido.
Válido de 08.10 a 22.10. Se puede canjear una vez por número de cliente.
Compact Miniwob Workbench Prod. 11805

Comprehensive play possibilities on a compact surface
5 wooden tools (carpenter's square, saw, screwdriver, wrench, hammer)
incl. vice clamp
Children can even help out with the assembly of the workbench
Stable storage spaces for tools and accessories keep things tidy
Miniwob Workbench Prod. 11806

Comes with small threaded boxes which can serve as tool holders or storage space for equipment
8 wooden tools (1 circular saw, 1 toy electric screwdriver with three changeable bits, 1 spirit level, 1 bench vise, 1 hammer, 1 wrench, 1 screwdriver, 1 saw)
With chalkboard for sketching building projects
Plenty of storage space
Children can even help out with the assembly of the workbench
Miniwob Tool Belt Prod. 11807

A practical tool belt with an adjustable strap
Click buckle that's easy to open and latch
Tool highlights: adjustable wooden pipe wrench and wooden spanner wrench are the perfect partners for the screwdriver and spanner wrench perfectly
The differently-sized loops offer space for all of the included tools
Comprehensive play possibilities on a compact surface and for on-the-go
Miniwob Tool Box Prod. 11808

Realistic accessories and tools such as the carpenter's square with a spirit level or a handy toy electric screwdriver which has bits that can be swapped out with the help of magnets
Flexible elastic bands in the tool box keep the tools in place, even when you're on-the-go
6 wooden tools

Miniwob Construction Set Prod. 11810

Comprehensive construction set with drill holes, threaded cubes, screws, wood pieces, and nuts
All of the construction pieces can be properly assembled with the spanner wrench and the screwdriver – Creativity knows no limits!
Trains the ability to make three-dimensional constructions
67 pieces