Come discover four new balance trikes and two new balance bikes for your outdoor assortment, and get your assortment rolling!
Christmas business is barely over, and it's already time to move on to the lucrative spring and outdoor season. That's when you definitely need balance bikes in your assormtnet! This is because they train early childhood motor skills better than almost all other toys, they're the perfect preparation for riding a real bicycle, train children's sense of balance and coordination and have positive effects on their intellectual, mental, and physical development.
Since balance bikes and similar toys are some of the hottest-selling toys in the spring months, we've got lots of promising reinforcements coming for your balance bike assortment.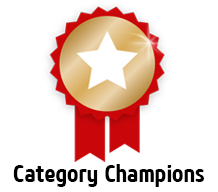 First a balance trike, then a balance bike!
They're the perfect preparation for riding a bicycle without training wheels: Come discoverfour new balance trikes in two different colours and sizes that train motor skills, balance and coordination in young novice bike riders. For the younger ones, there's the "Balance Trike 2-in-1 Turquoise" (Prod. 11610) and the "Balance Trike 2-in-1 Pink" (Prod. 11612) including a bike bell, and for the older little ones, there's the "Balance Trike Maxi 2-in-1 Turquoise" (Prod. 11609) and the "Balance Trike Maxi 2-in-1 Pink" (Prod. 11611).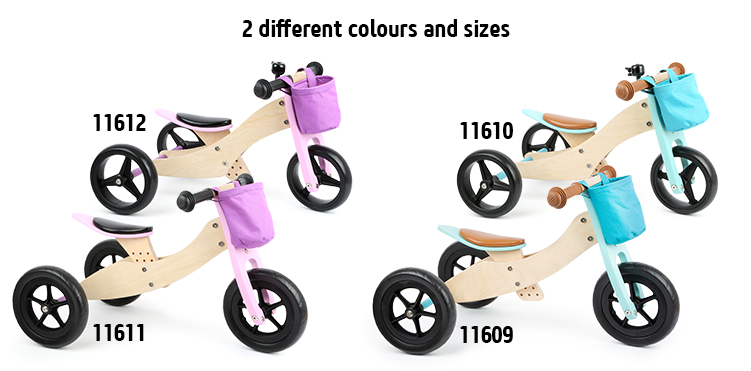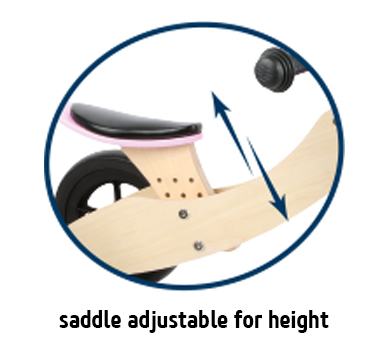 These wooden trikes that grow with the children can be set up perfectly for the child with height-adjustable seat with three settings and the adjustable seat distance (also with three settings), and the handlebars with a turning limiter offers an added plus in safety! With removable handlebars basket! For novice bike riders, the safe, three-wheeled variation with two rear wheels is ideal – and when learning advancement and balance allow it, it can be transformed to a classic balance bike!
The advantages at a glance:
Particularly light
Grows with the child with the seat height and seat distance
Usable as a trike and a balance bike
Handlebars with turning limiter
Removable handlebars basket
Rubber grips
Unbreakable EVA Soft rubber tire finishing
Soft seat for riding comfort
Optical Eye-Catchers: the "Balance Bike Pink Hummingbird" and the "Balance Bike Blue Paper Airplane"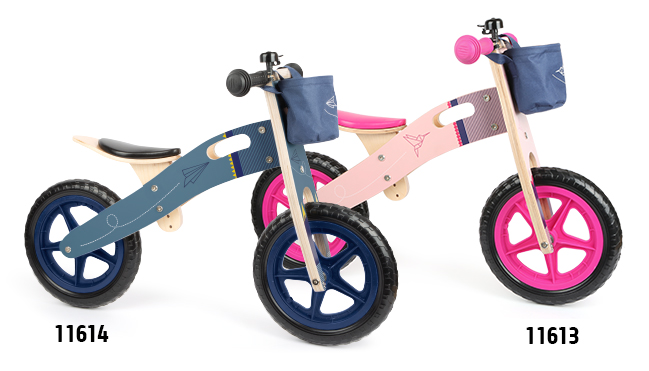 With straight-lined designs and subtle origami elements, the two new Balance Bikes, the Hummingbird (Prod. 11613) and the Paper Airplane (Prod. 11614) an attractive appearance! They impress customers with a height-adjustable seat with three settings, and offers a space for toys and supplies thanks to the removable handlebar basket.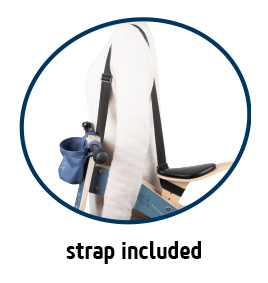 And here's a highlight: When the kids are on-the-go and need a break, these lightweight bikes can be easily carried by the parents with the included carrying strap!
These balance bikes and balance trikes strengthen children's confidence in their own abilities, motivate them to exercise out in the fresh air and playfully train physical fitness and teach traffic safety rules – all good reasons for bringing them into your toy assortment!
But we've even got more to offer! Come discover a wide selection of balance bikes in our "Balance Bikes" category with which you'll win big with your customers and increase your turnover.