Get ready to dig and splash in the sand! Set of 3. Hard-working craftsmen already know in the sandbox how to use their tools properly: with this cute brick layer set sand-stones can be "produced", stacked and smoothed and finally the wall can be plastered.
Size: trowel: approx. 20 x 7 x 6 cm
Age recommendation: 0+
Material: plastic
Packaging: carrier bag

These sandpit toys shouldn't be missing in any garden:
Sand Toys "castle molds"
Set of 3. Whether a knight's castle, a noble princess palace or a well-fortified fort – here you can build many fantastic castles. And with these three different castle moulds it's really a piece of cake!
Art.-No.: 8780
Size: approx. 8 x 8 x 10 cm to approx. 17 x 8 x 10 cm
Catalogue page: 183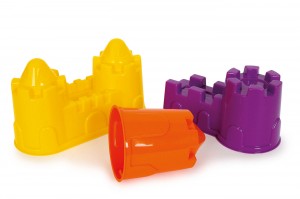 Sand Toys "Hand and Foot Molds"
Set of 4. How cute! These molds in hand-and-foot-shape are the perfect first sand toy for babies: their own hands and feet. Children will have great fun shaping the sand!
Art.-No.: 8781
Size: Foot: approx. 14 x 10 x 3 cm; Hands: approx. 17 x 14 x 3 cm
Catalogue page: 182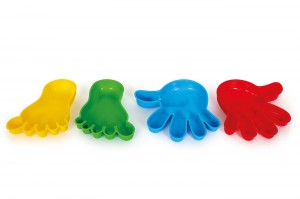 Sand Toys "Handcart Set"
Set of 9. With this great handcart you can easily transport the toolset to the site! Bucket, watering can, shovel and molds offer a lot of fun in the sand pit!
Art.-No:. 8785
Size: Trolley: approx. 21 x 7 x 10 cm
Catalogue page: 184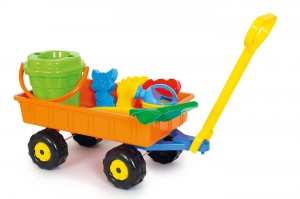 Sand Toys "Sandpit Mill Set"
Set of 8. In the fascinating mill the wheels are turning while when the fine sand is sifted. The shovel helps with digging, the rake helps smoothing the subsoil, the watering can transports the muddy water, and the four molds create great sand animals!
Art.-No:. 8786
Size: Sand mill: approx. 12 x 12 x 30 cm, moulds: approx. 8 x 8 x 2 cm
Catalogue page: 182