The exclusive wooden ice cream stand makes a great impression with realistic functions and a top design!
All kids love ice cream! And after the real ice cream is eaten, the fun can continue with cold favourites in the children's play kitchen and play store! Come discover the new small foot Ice Cream Stand "fresh", the trending product with toy food and accessories for your role-playing segment!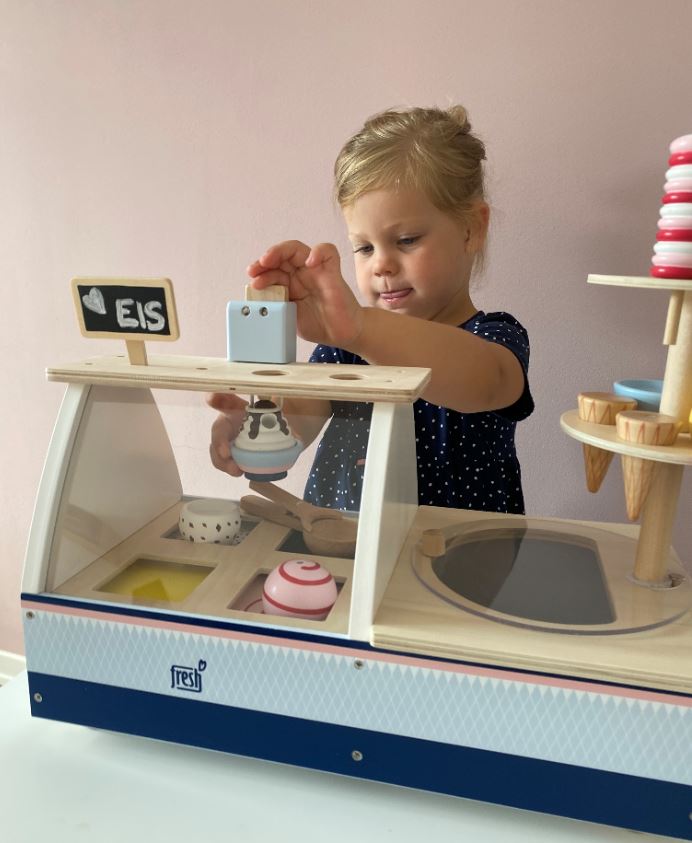 As an innovative wooden ice cream play set, the small foot Ice Cream Stand "fresh" makes role-play in play kitchens and play stores even more realistic. This ice cream stand comes in blue, pink, and natural wood colour tones, and makes a great impression as a serving sales stand with many functions and ample accessories. The stackable scoops of ice cream, ice lollies, whipped cream/soft-serve ice cream, ice cream cones and bowls with spoons, small waffle cone pieces, and decorative cherries will leave no wish unfulfilled. The ice cream display compartment with plastic viewing window, the freezer with transparent rotating lid including rotation limiter, the accessories stand, and the storage compartment offer order at the ice cream stand! The highlights are the magnetic ice cream scoop and the whipped cream/soft-serve ice cream dispenser. Includes writable chalkboard.
Cool functions for realistic role-play!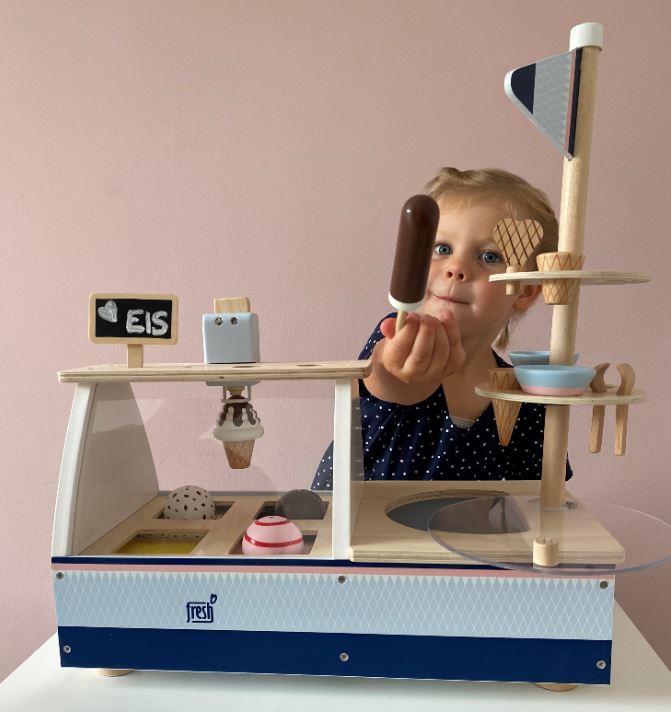 The four portions of ice cream in the flavours of vanilla, chocolate, stracciatella, and strawberry can be removed from their compartments and place into an ice cream cone or bowl with the help with of integrated magnets and the switch on the ice cream scoop. If you want more ice cream, you can stack the scoops! Next, the ice cream can be decorated with the whipped cream/soft-serve ice cream dispenser. With just one press of the button, the whipped cream or soft-serve ice cream comes out of the dispenser – almost like in a real ice cream cafe! A small compartment under the ice cream containers can be used to store accessories or additional toys such as play money and wallets. And there's even an educational game to be played: the predetermined positions of the scoops of ice cream are illustrated with the colour-coded compartments. That makes it easier for younger children to sort them!
Product features that impress parents 100%:
8 different flavours of ice cream, from ice lollies and ice cream scoops to soft-serve ice cream
Stackable ice cream scoops equipped with magnets
Ice cream display area with plastic viewing window, colour-coded ice cream compartments for the ice cream scoops with matching colours
Gender-neutral, subtle colour design with lots of visible wood material
| | |
| --- | --- |
| Ice cream scoop and soft-serve ice cream/whipped cream dispenser with magnet function | Freezer for ice lollies with transparent lid with a stopper |
| | |
| --- | --- |
| Large and small ice cream cones, ice cream bowl with spoons plus decorative waffle pieces and decorative cherries for inserting | Accessories stand with little flags and a writable chalkboard |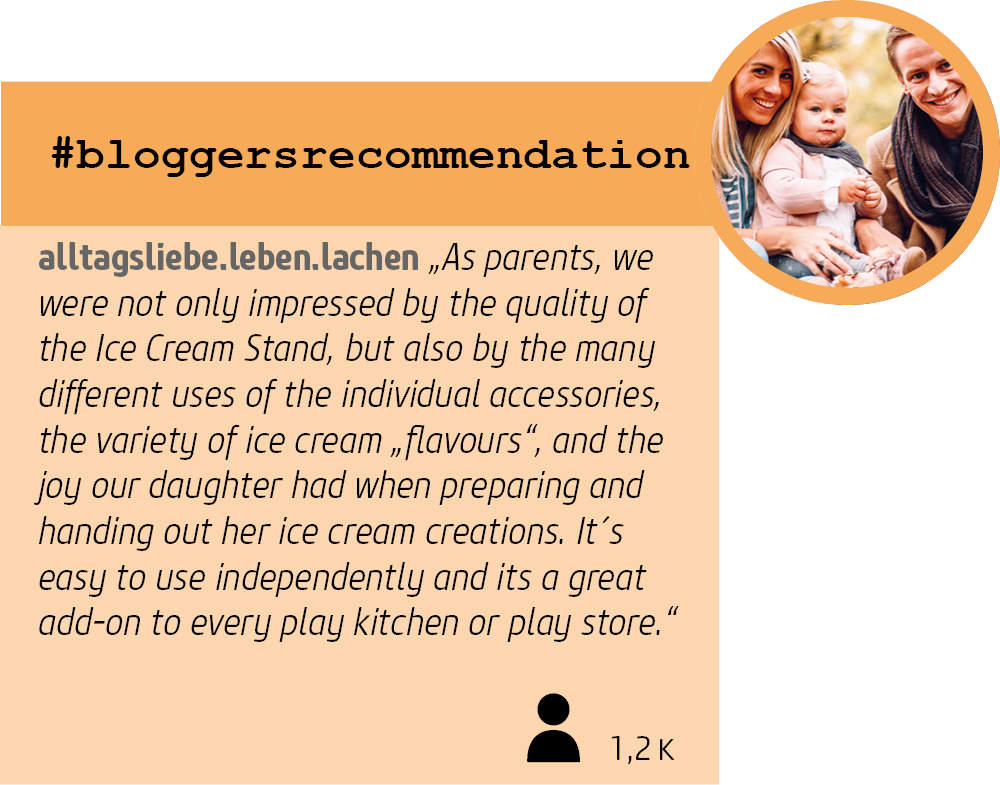 Wood is trendy and ice cream is always a grand idea!
Many parents are looking for environmentally sustainable materials without having to sacrifice attractive designs and additional age-appropriate play functions. With its appealing look, its functional and realistic details, and the highly visible wood material, the small foot Ice Cream Stand "fresh" has its figurative finger on the pulse of the times and appeals to both children's and adults' tastes. It's the new must-have for the play kitchen and role-playing assortment – and not just for the summer months! It's perfectly compatible with the Multifunctional Play Store "fresh" and the comprehensive accessories assortment of the "fresh" product group, which means that this ice cream stand will provide even more cross-selling turnover!
Category Champions – Market demands 100% met!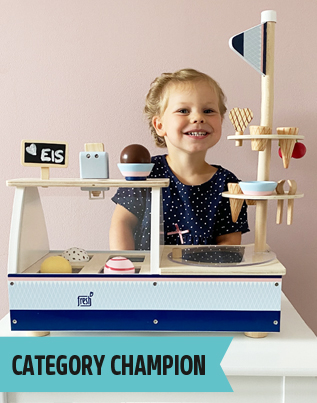 The small foot Ice Cream Stand "fresh" is part of our new Category Champions at Legler! All of the relevant market demands, wishes, and needs of children and parents were the focus during the development process of this new product. The result is a wooden toy vacuum that's also a push-along toy that you won't find a second time on the market. Come learn more about the "Category Champion" term and which small foot brand products are a part of it here!
Good to know!

Even more arguments for the sales consultation:
Particularly practical as an add-on product for play stores and play kitchens, but can also be used excellently as a stand-alone ice cream stand.
Ice cream role-play in the play store and play kitchen are educational, fun, and good for playfully training social and language skills.
Handling the ice cream scoop and the whipped cream dispenser trains fine motor skills.
Role-playing and "enjoying ice cream" is huge fun for kids and gives them space to act out their creative ideas.
Sensitisation for culinary enjoyment
Looking for even more ice-cold and sweet sales-bringers for your assortment?
Come discover more wooden toys and accessories for children's play kitchens and play stores in our "Ice Cream Café & Kitchen" product category which will provide realistic playtime experiences in the nursery. Cake and sweets are just as popular as ice cream! From ice cream on a cone to ice lollies, ice cream trolleys to ice cream stands, cuttable chocolate cake and pies to cupcakes and boxes of sweets … every sweet tooth's mouth will be watering! These sweet top-sellers in the role-playing assortment are the favourites during coffee meet-ups and will provide you with proper turnover in this market niche!