It doesn't even matter what time it is – with this new Learning Clock, it's never too late for a fat sales boost!
Learning to tell the time and navigate a calendar is an important step in a child's development towards self-sufficiency. Learning boards and learning clocks can help with that in a playful way. Combined with weather and the seasons, they create the perfect learning fun. Offer your customers the best products and sound advice when it comes to learning about time!
Tick, tock, tick, tock – Look how time flies! Reading a clock and understanding time is a challenge for children and also an important step towards their self-sufficiency. It's no wonder that the young ones then feel magically drawn to the topic of time, especially since the grown-ups are always talking about it! But what are minutes, hours, days of the week, months, and years? "When is the Easter Bunny finally going to come?" "Why do we have to hurry up?" and what does it mean to be "punctual" in kindergarten and school? The youngest children often can't grasp the meaning of phrases like "in 5 days" or "tomorrow", so it's no wonder that children's comprehension of time is very different than that of adults. The past, present, and future seem to easily blend together. With a learning clock, however, this topic can be easily mastered – whether in the kindergarten, in primary school, or at home with the parents!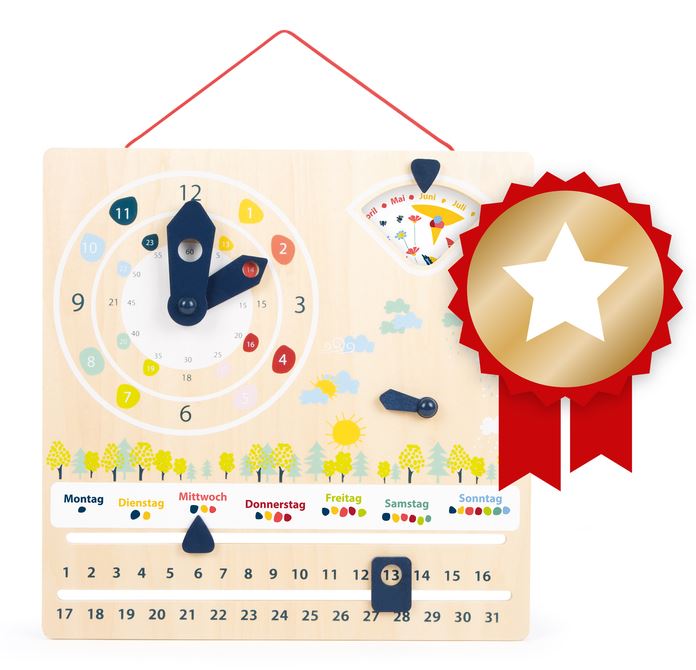 What makes a good learning clock?
The benefits at a glance:
Displays time in the 12-hour and 24-hour systems
Learning the days of the week and dates
Learning about weather and the seasons, as well as their connection
Promotes the development of fine motor skills through setting the clock's hands and turning wheels
Usable in 15 European languages thanks to the stickers
Usable in foreign language classes
Can be hung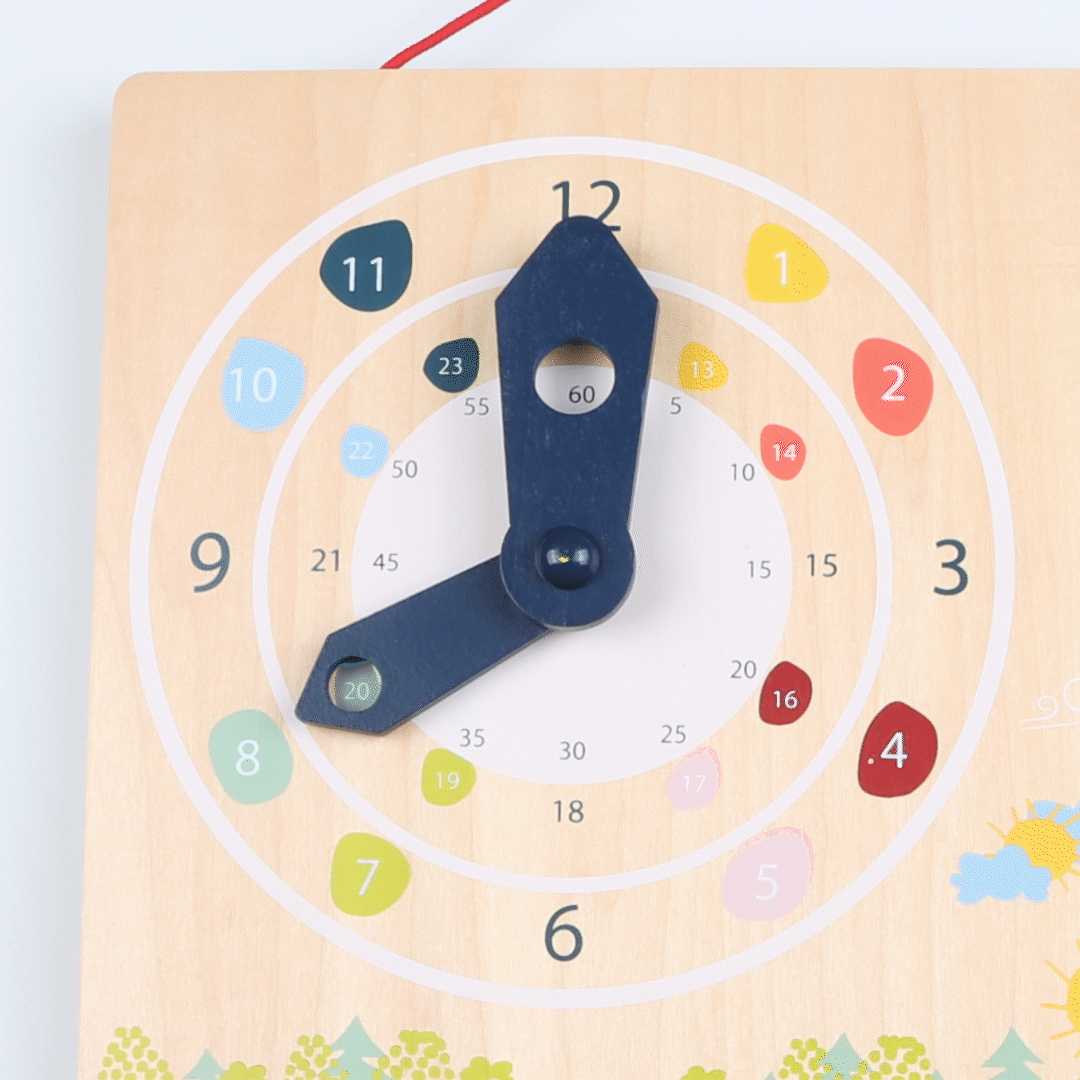 What makes a good learning clock, and are manual learning clocks even up-to-date today? The answer is: Yes! Because even when younger children in the "app" age can learn to tell time with a diverse range of special apps, they get to learn to tell time much more intimately when they can handle something with their hands while learning about the connection between time and daily routines by visualising it with turning clock hands and sliding elements. Manual learning clocks made of stable wood, robust, easy-to-move clock hands and large numbers are therefore ideal for young "clock beginners"! It's important that learning clocks show all the hours and minutes so that they can also learn things like "quarter to", "half past", and "quarter past", depending on how advanced they are. The clock face should also show the time in both the 12-hour and 24-hour systems so that children can learn additional time phrases such as "in the morning" and "in the afternoon".
| | |
| --- | --- |
| And when the time is then combined with the days of the week, calendar dates, weather, and the seasons, it's even more fun for the young ones! This is chiefly because abstract temporal connections can be associated with tangible and perceptible matters, such as rain in the fall. This makes learning boards which are a learning clock, a calendar, a seasons clock, and weather information perfect for young time tellers! | |
The "Educate" Learning Board (11625) made of FSC®-certified wood supports children in this regard in a comprehensive way. They help children learn to tell the time in the 12-hour and 24-hour systems while teaching them about the weather, the days of the week, the months, and the seasons – and in a totally playful way with the help of simple illustrations. By turning the clock hands and small wheels, they will also be training their motor skills.
And thanks to the stickers, it can be used in 15 different European languages!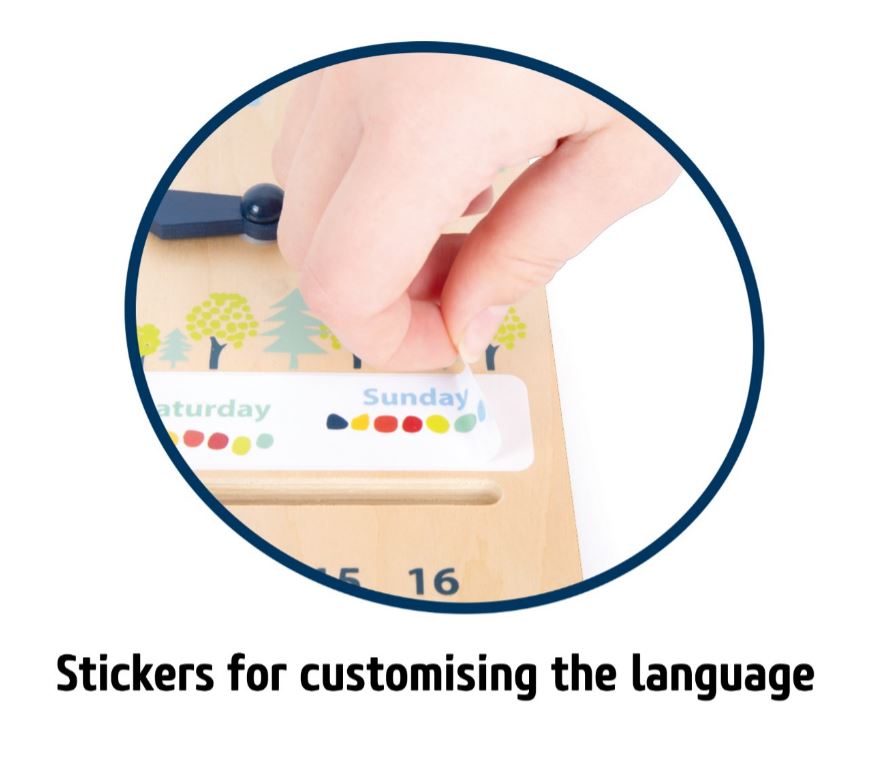 It's an eye-catcher optically too:
High proportion of wood material used
Child-friendly motifs
Good to know!

Even more arguments for your customer consultations:

Learning boards are perfect for childre aged 5 years and up
Children who can tell time can keep agreements better
The clock is a top theme in the last year of kindergarten/in preschool ages/when transferring to primary school
Learning clocks promote the development of routines, which in turn produce rules, promote independence, and give a sense of security
Playful, diverse introductions to the topic of time lead to faster learning success
Educate has more to offer:
The product group "Educate" offers (pre-)school-aged children the chance to playfully attempt their first tries at learning – and not just about telling time! Each product in the Educate series offers loads of fun at the highest pedagogical level, regardless of whether it's the Slide Rule, Sudoku, the Abacus, the Maths Tiles, or the Learning Box – made of brightly coloured wood, these sustainable products support children during their learning development and preparation for school. These products are suitable for various different age groups and difficulty levels.

You'll find many more learning clocks in our online shop! You'll also find learning boards in the popular licenced design of The Very Hungry Caterpillar (10460), the classic Learning Board (4765), simple Wall Clocks (11291), or learning boards which unite a clock and a shape-fitting puzzle (4764) or a numbers puzzle (1828).