Toy vehicles, parking garages, & toy trains from small foot are the absolute bestsellers for Christmas.
There are few toys that are so beloved by customers as wooden toy vehicles. With their various models and designs, they're the highlights of the nursery. Whether big or small, red or black – come discover a huge selection of wooden toy vehicles for your assortment!
Big, bigger, XL toy cars! Large toy vehicles for small hands are a great fit for your assortment
Our XL wooden toy vehicles which come with action figures and can be played with from above bring special playtime value and long-lasting fun. The Ice Cream Trolley (11457) and the XL Police Bus (11459) in particular are the true special items with rarity value in the toy segment which belong in every toy vehicle fleet.

Small size, big impression! Low-priced toy vehicles are particularly popular
It doesn't take much to make children happy! With our Fire Brigade Truck (11075), the Tractor (11078) or the Construction Vehicle (11096), you're guaranteed to bring a smile to your young customers' faces. In addition, these small, handy last-minute purchase products fit perfectly in Advent calendars and shoes for St. Nicholas, and are great opportunities for impulse purchases for children.

Store the drivable treasures securely
In order for the young car fans to be able to securely park and store their favourite cars, you'll find a huge selection of parking garages and car parks in our assortment. Whether with car lifts, car washes, or petrol stations – there's something for everyone here!
Park it, fill the tank, wash it, repair it – One car park, many possibilities!
Have you seen our new Category Champion, the Premium Car Park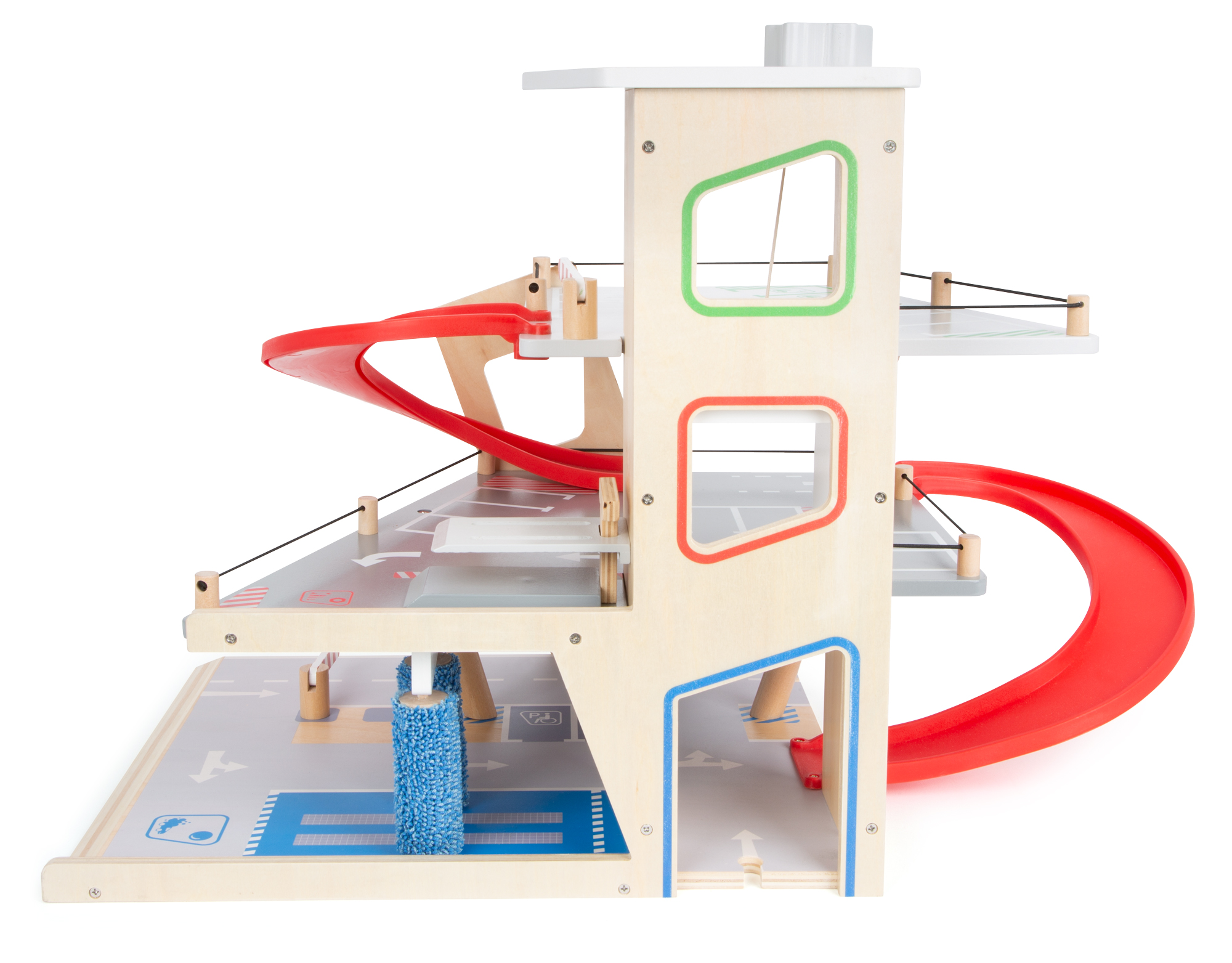 (11676)? The two included wooden toy cars can be parked on any of the three floors in the garage, or they can race down the ramps in one trip. But there's so much more! The cars can get their tanks filled at the magnetic petrol pumps or their batteries charged at the electric car charging station; in the auto repair shop with a height-adjustable car lift, everything can be inspected once more; and after going through the car wash with the moving rollers, the kids' favourite speedsters will be shining like new! The lift which is operated by a large handwheel moves the toy vehicles to the different car park levels. A locking mechanism and and grooves in the base ensure that the cars get safely to the top.… The Premium Car Park is one of Legler's Category Champions and unites all market-relevant end customer demands in one. It makes a great impression with its multifunctional playtime value and product features which are unique on the market.


Toy trains: At the very top of your young customers' wish lists!
For everyone who prefers to travel via train rather than via car, we've got the right toys for them in our assortment, too. How about the Wooden Train Junior Helicopter (11493), the Wooden Train Junior (11495), or the Wooden Train Junior Crane (11494). Toot toot! It's time for the big trip! With the Wooden Train Town and Country (11490), the Wooden Train Big Trip (11491), and the Wooden Train Bridge Building (11492), young rail masters can create their own train worlds. It's no wonder that wooden toy train sets and the matching accessory sets are at the top of so many kids' wish lists
Newsletter subscribers can get a 5€ instant discount on orders places from 03.11. to 09.11.2020! You'll find your personal 5€ voucher in our current newsletter!
Stock up and save for your Christmas business now with small foot world play worlds!
Use this chance and profit big from now until 31.12.2020 with an attractive discount offer on small foot world play worlds. They can be combined with one another and expanded with all major wooden toy train rail sets found on the market. Have you seen the Container Terminal with Accessories (11378)? It's huge playtime fun for young, aspiring harbormasters!


Come browse through our "Toy Vehicles and Play Worlds" category too and discover more wooden toy vehicles and toy train sets that are sure to get you on the right track.