Games for the whole family are top-sellers for the summer!
The coronavirus boom for parlour games continues! Families are currently looking for new game ideas in order to make their summer at home, in the park, or on the long-desired holiday more exciting. At the same time, parlour games are a great alternative pastime in this digital age and are highly in demand for both young and old!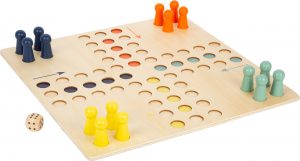 Gaming fun for the whole family in XL formats!
Classic board games such as Ludo, Malefiz, and Snakes and Ladders with extra-large game fields! Just the right thing for small or unsteady hands!
Popular classic games for all ages!
The Rainbow Wobbly Tower, Ludo in a "Space" or "Safari" look: these top games belong in every assortment! Tried-and-true parlour games such as Bingo, Solitaire, or a Balancing Frog bring all kinds of gaming fun on long summer evenings.
Want to find even more classic games?
You can have fun when you're on the road, too – with compact parlour games! Whether the game can be stored in a cloth bag, such as with Chess or the Nine Men's Morris Travel Game, or stored inside the game itself: Knight and Princess Tic Tac Toe, Ludo to go, Four in a Row, and Snakes and Ladders. These classic games are ideal for outings to the park, to the beach, or on holiday!
Concentration required!
With games of skill such as Dominoes Rally, the Wooden Geometric Shapes Puzzle, or the XL Tangram Mosaic Set, excitement and thrills are guaranteed!
Additional sales guaranteed: Displays such as those for the Colourful Games of Skill, "Marble" Puzzle Game, and Luna the Unicorn and Merlin the Dragon Puzzle Game for the POS! Every sales counter needs space for these impulse purchase products!
Newsletter subscribers can now save wisely on orders placed up until 14.06.2021! You can find your personal 5€ voucher in our current newsletter!
Want to find even more classic games?
You can find more family games in the Parlour Games category!