Keep an eye on the summer turnover prize and choose environmentally sustainable alternatives!
TOP Trend: Water toys made of wood!
Wooden swimming toys: environmentally friendly? Of course! This alternative to plastic & rubber is absolutely "in" and brings sustainable fun when splashing around in the baby pool, swimming pool, or any other body of water. Wind-up toys like the Crocodile Canoe, Pelican Canoe, Whale, and Submarine also bring boatloads of bathing fun in the bathtub while the Octopus Catamaran and the Walrus Raft are ideal for a walk in the woods by a stream! Don't let this sales potential go unused!
It's a sailor's life for me!
Wooden boats for playing with – either individually or in a set – are a summer hit! With the sailboat set and the Starfish Sailboat, nothing can stand in the way of role-playing fun on the high seas. The boats come with action figurines so that they're not floating around unmanned. Small and handy, these small sailboats can fit into every swimming bag!
NEW: Fully stocked and tailored to your needs – Water toys in a small foot tray
Whether it's the wind-up whales, the submarines, or the sailboats – there's the right toy for everyone in the Water World & Sea Creatures small foot Shelf Tray, and young explorers will get their money's worth, too! It's an absolute eye-catcher at the point of sale!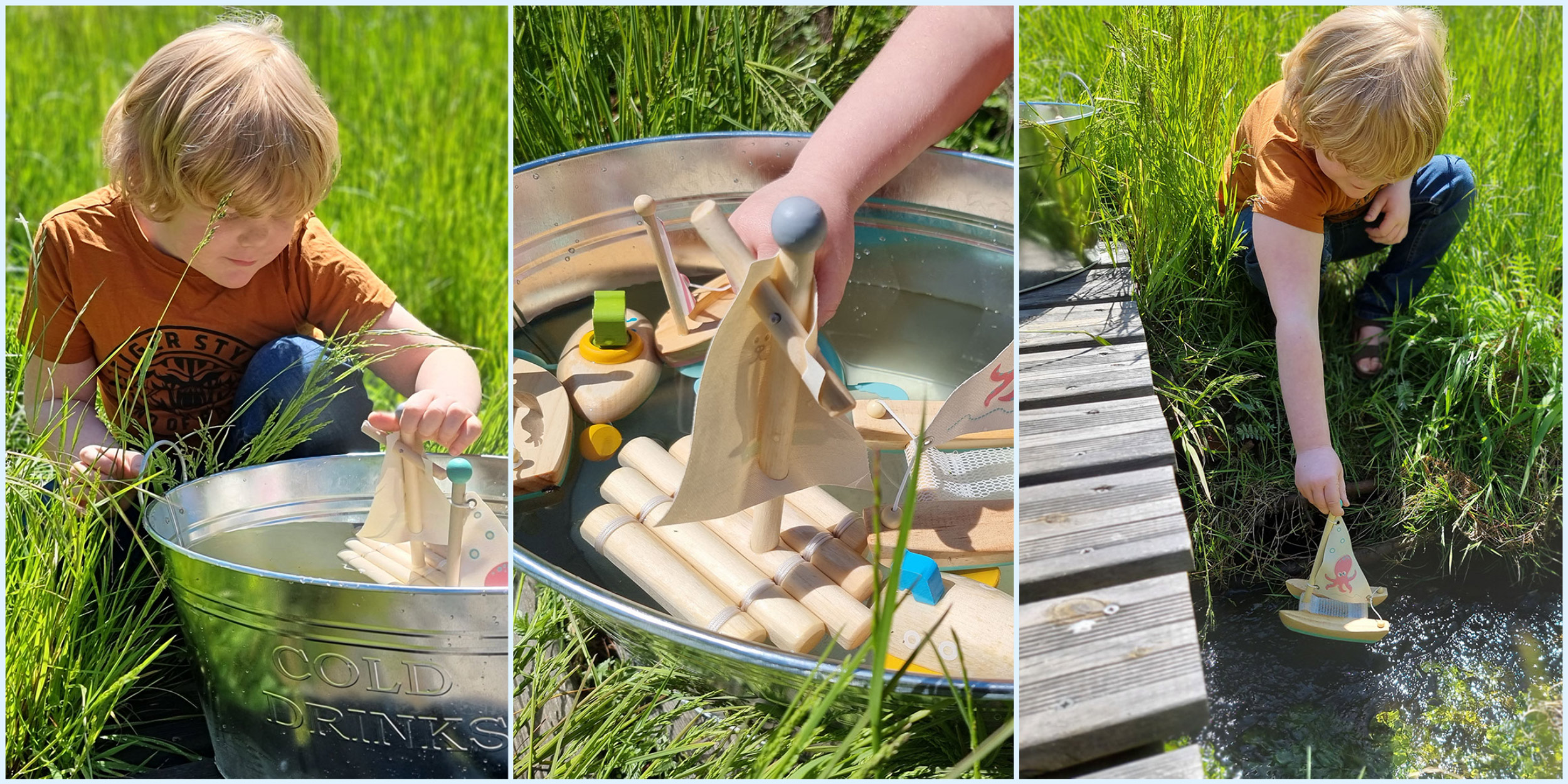 Exploring & discovering things in nature is totally trendy!
Go on a tour of discovery with mini-kaleidoscopes and animal mini-compasses and collect all of the blossoms so that they can be examined further with the Flower Press. The Dazzling Prism Display, "Motifs" Kaleidoscope Display, and Animal Compass Display have the ideal gear for young adventurers and nature fans to find at your POS. Get your share now!
Here are the bestsellers: The crowd favourites of the Sea Creatures Explorer's Toys Display and the Very Hungry Caterpillar Explorer's Toys Display are convenient counter displays for optimal product presentation!!
% SALE at a glance
Researchers and explorers like to save money, too … And with explorer's toys such as the Crystal Creator or the LED Torches Display, you can write up big margins at %SALE prices!
Newsletter subscribers can now save wisely on orders placed up until 21.06.2021! You can find your personal 5€ voucher in our current newsletter!
Impulse purchases guaranteed: Animal figurines are collectible!
The lifelike animal figurines from Animal Planet are the perfect addition to every play world: from farm animals and dinosaurs to wild animals and sea creatures! Or perhaps also mythical creatures? The selection is huge! Come discover all of the animal figurines from Animal Planet!
Discover everything that's fun to do outside in the Outdoor and Exercise Toy category!