The winter blues don't stand a chance with these brightly coloured small foot bestsellers!
The Christmas business season has just barely come to an end, and already it's time to prep your assortment for a successful start to the new year! Bring some real highlights to your 2021 assortment with select products – from year-round bestsellers and blogger favourites to learning games which continue to be trendy: with us, you'll have the right partner at your side – also in the new year! We wish you a successful start to 2021!
Here are THE secret tips for your 2021 assortment
With the 2020 Newcomers of the Year such as the Natural Wood Doctor's Kit (11695), the Ukulele (11750), or the Barricade XL (11786) as well as the Category Champions that were the most successful last year, you'll be sure to find the right products that will score you big points with your customers in the new year.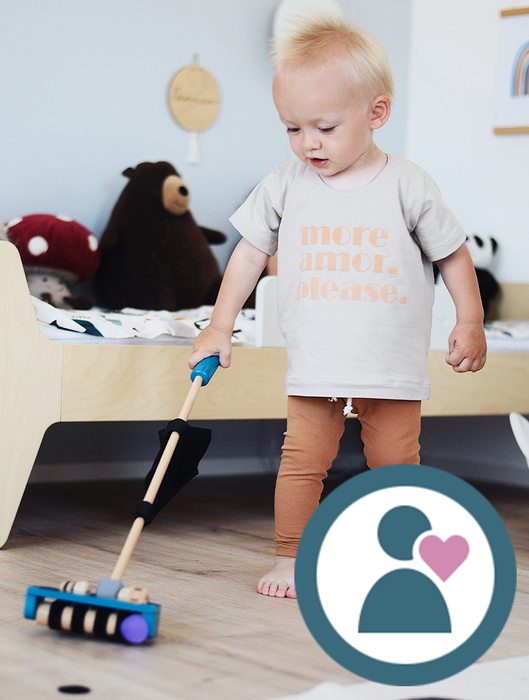 #FavouriteToy – Influencers know what's "in"!
Popular bloggers have their fingers on the pulse of the times and know where trends are heading. As multipliers, they're trendsetters in the community for what's popular. Small foot toys are high up on well-known family bloggers' list! Come discover which toys are popular with these influencers and get the blogger highlight products for your assortment. And these are particularly popular: the Hare Motor Activity Cube (11732), the Push-Along Toy Vacuum (11735) and the Crocodile Baby Walker (11738).

Sure-fire sales-bringers for the whole year
The rainbow was a major trend motif that moved into children's nurseries in 2020. It's then no wonder that you'll be in great shape for 2021 with brightly coloured rainbow toys such as the Large Rainbow Wooden Building Blocks (6969) in your assortment. But you'll also be in the fast lane with the "Jungle" and "Safari" product groups too!
Order now and save smartly! Newsletter subscribers can now save smartly on orders places from 12.01. to 18.01.2021! You'll find your personal 10€ voucher in our current newsletter!
Still as trendy as ever: Must-haves for homeschooling
Learning toys are popular aids for (pre-)school-aged children – and not only in times of homeschooling! Stock up your assortment now with the Weekly Planner (11460), the Maths Sticks "Educate" (11167) and the Shape-Fitting Learning Puzzle (11741) and offer your customers child-friendly toys that make learning easy!